English language classes help bring immigrant women into mainstream
January 29, 2014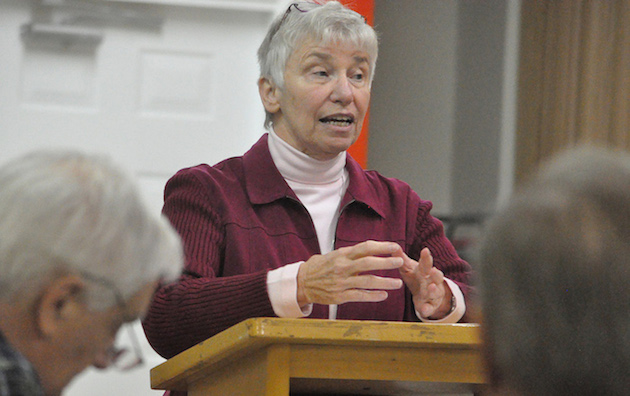 Dominican Sister Kathleen Ryan detailed free English-teaching services of the Dominican Literacy Center in Aurora last Monday. Ryan, center director, addressed the Aurora Noon Lions Club's bi-weekly membership luncheon.  Al Benson photo.
Busted.
That was an Aurora teenage boy who thought his immigrant mother didn't understand English.
After a phone conversation, the boy told his mom he was going to the public library.
However, the mother overheard her son say he was going to meet friends in a local park.
Fearing he was visiting gang members, the boy's mother sent him to his room instead.
How did she understand her son's conversation? She was taking English classes at the Dominican Literacy Center in Aurora.
Citing the incident as one of the facility's "small successes," center director Dominican Sister Kathleen Ryan told Aurora Noon Lions Club members about the DLC's history and programs at the club's membership luncheon at Luigi's Pizza in Aurora Monday.
According to Ryan, she started the center 20 years ago with a card table, chairs and four students in a room loaned at St. Nicholas Catholic Church in Aurora.
Since 1993, Ryan said, about 2,500 women have learned to read, write and speak English at the center at 260 Vermont Ave., in Aurora, a former convent on St. Therese Church grounds.
Currently, 138 trained volunteers provide free, one-on-one tutoring to immigrants in weekly 90-minute sessions. Classes meet five mornings, four afternoons and three evenings.
Tutors and students select meeting times that fit their personal schedules.
Tutors use English-as-a-second-language books, writing and grammar exercises, computer-based materials and conversation practice to immerse students in English.
Tutors and students are not allowed to use the student's native language, Ryan stressed. "This is an immersion experience, similar to a baby learning a family's language over years," she said.
Classes are open to women age 17 and older with a desire to learn English in an atmosphere of mutual respect and dignity.
Tutors receive 16 hours of training from Ryan and center co-leaders and Dominican nuns Ann Clennon and Ann Beckman. Clennon assists with tutor training and Beckman teaches naturalization classes.
Two program graduates serve as part-time secretaries and two other part-time workers assist with registration, administration and a newsletter.
"While most students speak Spanish, other students have represented Pakistan, Iran, China, Korea, Poland and Russia," Ryan said.
Aurora attorney Herb Steinmetz, a Sugar Grove resident and Noon Lion, is among volunteers who help students apply for and prepare to take the U.S. citizenship test.
Ryan said the naturalization class, a group of women and men, was launched in 1998. The center's program has a 95 percent pass rate she noted.
Students get two chances to pass the test that costs $680 per person and requires an eight-page application.
A 12-member citizen advisory board provides guidance and support for center initiatives. Sugar Grove resident Amy Manion, an information services librarian at Aurora University, is seven-year board president.
According to Ryan, the center began a 2013-2014 "Year of Service" 20th anniversary celebration in September. Events have included a free food distribution and a giveaway of refurbished bicycles, both for center students and their families.
Anniversary events continue Saturday, Jan. 25, when 180 volunteers will fill dry-food packets at Feed My Starving Children, a nonprofit in Aurora. Volunteers will work from 11:30 a.m. to 1:30 a.m. and from 2 to 4 p.m.
For more information about the literacy center, call (630) 898-4636, email domlitctr@sbcglobal.net or visit dominicanliteracycenter.org.
—Al Benson