Full recovery seen for injured bald eagle now on the mend
March 19, 2014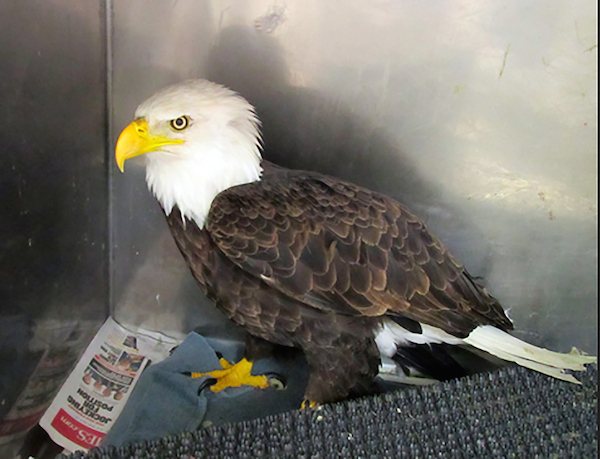 The Willowbrook Wildlife Center in Glen Ellyn is overseeing recovery of an injured bald eagle found recently in Oak Lawn and suffering from dehydration, a broken wing and malnourishment.  Willowbrook Wildlife Center photo.
An injured bald eagle from Oak Lawn has overcome a broken wing, dehydration and malnourishment with the help of the Forest Preserve District of DuPage County's Willowbrook Wildlife Center.
"His treatment has gone smoothly so far, and all signs are indicating that he'll make a full recovery and be released to the wild," says Dr. Jen Nevis, Willowbrook staff veterinarian. "His wing injury was of most concern, but it is healing well and he's acting pretty feisty, a sure sign that he's feeling better."
An Oak Lawn resident noticed the distressed bird in his backyard in late February. 
Animal control officers brought it to Willowbrook, one of the few places in the region that can care for wild birds of prey. During surgery on the bird's wing, Dr. Nevis found no signs of infection and only had to place a few stiches. 
As he continues to recover, the eagle will likely move to Willowbrook's specialized raptor flight enclosure where he can strengthen his wings in a spacious but protected outdoor environment.
Over 8,000 injured animals are admitted annually for care by the center's trained staff and volunteers. Willowbrook Wildlife Center, 525 S. Park Blvd. in Glen Ellyn, is open daily and invites visitors to see the center's resident wild animals and join some of the hundreds of educational programs offered each year. 
Learn more at dupageforest.org/WillowbrookWildlifeCenter or call 630-942-6200.
Wildlife supporters are invited to Willowbrook's annual "Night Owl Ball" fundraising gala on Saturday, March 15 from 6 to 11 p.m. at the Hilton Lisle/Naperville, 3003 Corporate West Dr. in Lisle. 
Tickets must be purchased by Wednesday, March 12 and are $75 each and $675 for tables of 10. 
Registration is available at dupageforest.org/NightOwlBall. Guests will meet one of the facility's resident birds of prey during the cocktail hour and enjoy a three-course meal, music, dancing, and silent and live auctions.
–News Bulletin news sources