GREAT BIRD COUNT
February 19, 2014

Volunteers in the annual Great American Backyard Bird Count scan the skies during a walk down Montgomery's River St. last Saturday. (News Bulletin photo)
Eagles now scarce, but plenty of other species found along Fox River during Montgomery census
Bald eagles are harder to find as winter recedes but there are plenty of other feathered friends who've stuck around.
And no matter the species, more than 30 volunteers worked along the Fox River in Montgomery on a sunny but frigid Saturday morning to count as many as they could.
Armed with a two-sided checklist from the Illinois Ornithological Society, counters walked down side streets or trudged through heavy snow and ice towards the riverfront to participate in the annual Great American Backyard Bird Count.
"We want to count all the birds out there," said count coordinator John Aman during an introductory meeting at Montgomery Village Hall. "You'll see a lot of Canadian geese and will see mallards. There's quiet a few huddled together in the cold and you'll also see quite a few great blue herons."
Thickly bundled to combat the zero degree temperatures and armed with binoculars and camera's telephoto lens, small groups set off on foot to six different locations near and south of downtown Montgomery.
Once at a site volunteers were asked to stand quietly for up to 15 minutes to observe and count.
"It's amazing what's out there," Aman said. "We want to stand still and let them come to us."
Many volunteers hoped to catch a glimpse of  majestic bald eagles who have wintered along in the Fox in recent years, observed in trees and swooping up and down the river in search of food. 
"Obviously we're here for eagles, we've had up to 62 eagles down here between the dam and Boulder Hill Pass,"  Aman said. "I can't tell you how tickled I am to see them."
"(But) they're starting to thin out, you might not see one today."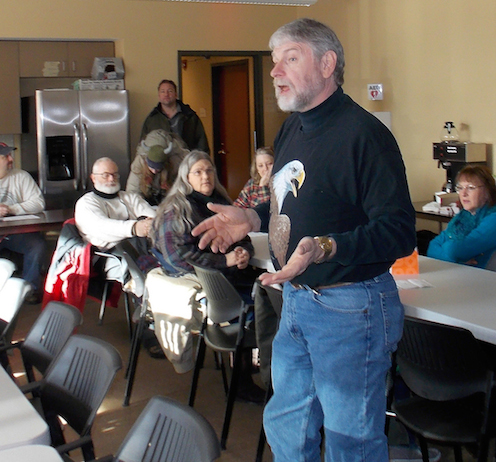 Count coordinator John Aman explains procedures during a meeting at Montgomery Village Hall. (News Bulletin photo)
As one group slowly walked south on River Street a guide pointed out a stand of trees that was home to many hawks. Their exact location has yet to be found but the territorial hawks have been consistently observed in the same area.
They also identified a woodpecker perched in a tree above a home and eventually arrived at a long-closed industrial plant site near U.S. Route 30 that's been slowly turned back to nature.
Results from last Saturday's local count had not yet been tabulated on the bird count web site, but one Montgomery observer who participated separately identified as many as 19 different species from her yard.
She noted Canada geese, two different woodpeckers, blue jays, crows, starlings and sparrows, plus cardinals and a variety of goldfinches.
Started in 2002, the Great American Bird Count is a cooperative effort by the Audubon Society, Cornell Lab and Bird Studies Canada to count birds each February, just before annual spring migrations begin in March.
Information on bird counts are combined with other surveys to help scientists learn how birds are affected by environmental changes and if species are increasing or decreasing year-to-year.
The count was originally held in the United States and Canada and has now gone global.
As of Sunday, the Great American Bird Count had reported checklists from 103 countries. In the United States a total of 591 species were identified from 36,000 submitted checklists while 216 species were noted from 4,000 submissions from Canada.
Other checklists arrived from  Argentina, Australia, China, Costa Rica, Iceland, India, Kazakhstan, Kenya, Kuwait, Mexico and Portugal, among others.
—Jack McCarthy