Life Saver
December 18, 2013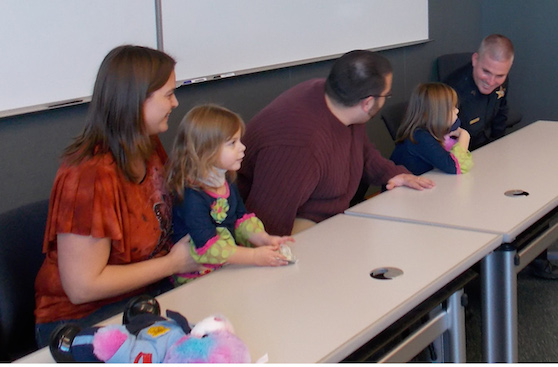 Aurora Sgt. Bill Rowley (far right) talks with members of the Schmidt family during an event honoring him for the role he played in saving the life of 2-year-old Abby Schmidt in October. (News Bulletin photo)
Off-duty Aurora officer honored for response after 2-year-old injured
An Aurora police sergeant was honored last week as "Employee of the Month" after saving the life of a two-year-old girl while he was off-duty.
On Oct. 13, Sgt. Bill Rowley came across a serious car crash that occurred at Grove and Caton Farm Roads in Joliet. 
A Montgomery family—Nick and Jessica Schmidt along with their two daughters, five year old Emma and two year old Abby-—were on their way to a pumpkin farm when their minivan was struck broadside at the intersection by a vehicle that had blown through a stop sign. 
Nick Schmidt pulled Abby from the vehicle she was neither conscious nor breathing. When Rowley happened upon the scene and immediately began CPR on Abby and continued his efforts for several minutes until paramedics got there and took over.
Rowley was driving the same route with his family when he came across the accident scene. It turns out that they were on their way to the same pumpkin farm as the Schmidt's.
Rowley had been to the pumpkin farm in the past but decided to take a different route on this day because he thought it would be more scenic to show his in-laws.
After initial treatment at a Joliet hospital, Abby was airlifted to Advocate Hope Hospital in Oak Lawn for treatment of a fractured skull, compressed vertebrae, broken collar bone and jaw, and lacerations to her spleen, liver, and kidney. 
She would go on to spend a week and one-half in ICU and 18 days total in the hospital. Miraculously, she is expected to make a full recovery. Her sister Emma was transported by ambulance to the same hospital and would spend four days in ICU.
"Had it not been for Sgt. Rowley's immediate action, this holiday season would have been much different for the Schmidt family," said Aurora Chief of Police Greg Thomas. "His heroic efforts not only demonstrate that a police officer is never truly "off-duty", but more significantly, the lives that can be saved by everyone knowing CPR."
Rowley began his Aurora Police career in March, 1999 and was promoted to Sergeant in 2007.
Rowley was honored at a ceremony at the Aurora Police Department last week attended by the Schmidt family, police officials and media.
And there was a special visit from Santa Claus, who gave the Schmidt girls a gift — personalized street signs with their names on each.
–News Bulletin news sources