Mooseheart celebrates its first-ever state champions
March 26, 2014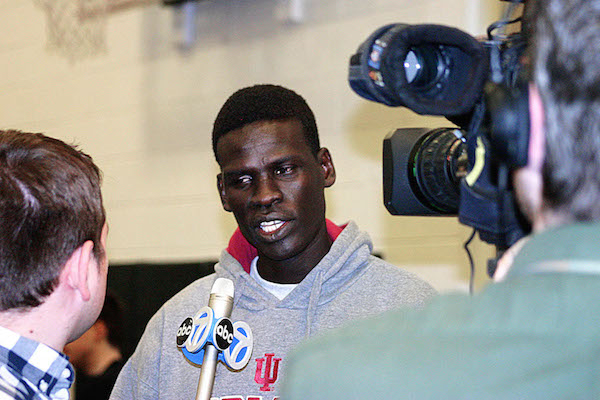 Mooseheart senior boys basketball player Mangisto Deng (center) is interviewed for TV news during last week's state basketball championship celebration at the school. (Mooseheart photo)
In a gym awash with the school's red and white colors, Mooseheart pride mixed with athletic success last  Friday as the school honored its state championship boys basketball team.
The celebration, at the school gymnasium, encompassed all Mooseheart's state qualifying athletes so far this season. Senior cross country runner Wal Khat finished fourth in the IHSA Class 1A meet and junior wrestler Joe Feemorlu became the first wrestler since the 1950s to qualify for state. 
Each was introduced to loud cheers.
"We reached some milestones this year," Mooseheart boys basketball coach Ron Ahrens said. "We had the first state championship, our first state qualifying wrestler in over 50 years and cross country, were we had a state placer in fourth. What a great year for Mooseheart athletics."
Then Juan Solis, a senior who served this year as the announcer for home boys basketball games, introduced each of the basketball players, and they arrived to the stage to louder applause. Ahrens and some of the players spoke, then the team took a fire engine ride across campus.
The celebration brought the entire Mooseheart community together. The entire student body attended, from elementary school through the high school. Campus staffers attended, as did Moose members and Mooseheart alumni.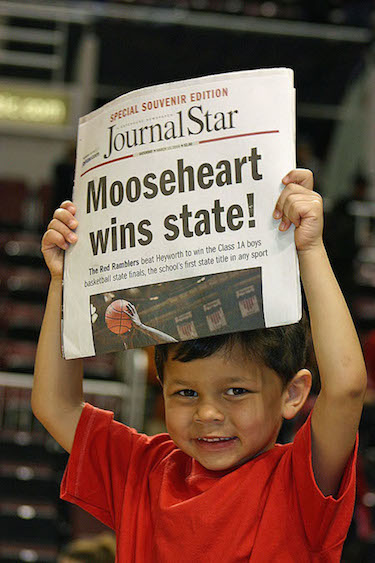 A newspaper headline tells the story. (Mooseheart photo)
"It's just been so great for our community, all the way from our 4- and 5-year-olds all the way up to the boys and girls who are seniors," Ahrens said. "I think it put some electricity through this campus by winning the state championship. I'm really happy with that."
Ultimately, the team ended at the fieldhouse, which was quiet, and they posed for a photograph with all their postseason trophies. Then the Ramblers turned in their uniforms and the season reached a symbolic finality.
"I love these guys," Ahrens said. "It's probably more rewarding for me than it is for them. It's a once in a lifetime thing to work with such great kids and win the state championship. It doesn't happen very often."
A trophy case at the fieldhouse has already been cleared and prepared for those trophies and plaques as well as photos from the season and those mementos will be added in coming days.
"Like I keep saying, hopefully we made memories for a lifetime," Ahrens said. "Twenty-five years down the road, I hope these players come back with their families and their kids and they can see the shrine for them that says that they're the first state champions in Mooseheart history."
Like all high school teams, the 2014-15 Ramblers will be different from this year's team. Mangisto Deng, Makur Puou, Akim Nyang, Peter Kurowski and JJ Odunsi have all played their final high school basketball games.
"I hope they all want to continue to play basketball for a long time," Ahrens said. "Some of them are good enough to play in college. We haven't had a lot of kids go from here and play in college, but we'll have a couple from this year."
–Darryl Mellema