More Fun to Come
April 10, 2013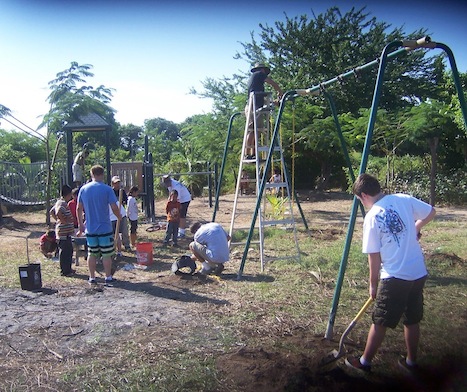 Recycled playground equipment from the the Fox Valley Park District and other donors in the United States finds new life in other nations like Uganda. Above, workers set up donated swings, slides and climbing equipment.  Photo provided by Fox Valley Park District.
– Contributed by Jeff Long
Recycled FVPD playground equipment gets new life overseas
Being the "green" guy that he is, Greg Stevens is always looking for ways to recycle, reuse and reinvest – even when it comes to playground equipment.
Stevens is a senior park planner for the Fox Valley Park District, which oversees and maintains 91 playgrounds. Every one of those playgrounds is monitored and assessed on a regular basis and, each year, older playgrounds are renovated – some receive brand new equipment.
Such was the case last fall at Frontenac Park on the far east side of Aurora. The playground equipment had been there for about 15 years – the average life span for playground equipment in public parks – when it was designated for replacement.
Often, the old playground equipment is recycled as scrap metal – a smart alternative vs. hauling it to a landfill. But Stevens had a much better idea, one that would recycle and re-purpose this old playground equipment and help underprivileged children as well.
Stevens contacted Kids Around the World, a non-profit company in Rockford, and worked out a win-win arrangement. Frontenac Park would be transplanted to a new home – nearly 3,000 miles away – in San Salvador, El Salvador.
In short order, Kids Around the World cut the steel playground equipment at Frontenac from its concrete footings and prepared it for transport to Mexico, where it would be re-fabricated and reconstructed at a grade school with 1,500 students.
The transfer was finalized last month, and the photos of joyous children bouncing and swinging and climbing happily were worth more than words could describe.
"It was so cool to see the kids' expressions … so happy and so excited," said Stevens. "What a great feeling."
Aurora resident Janet Geiger can describe that feeling from first-hand experience. In 2011, Geiger participated with Kids Around the World for a playground built in Masaka, Uganda.
At the dedication ceremony for the playground, Geiger recalled "my spine tingled to see the freshly painted playground buzzing with exuberant children – children who a week before did not know what a playground was."
Geiger was equally thrilled upon learning that 1,500 children in San Salvador are now experiencing the joy of play – something that can often be taken for granted in our suburban communities where parks are plentiful.
"To see my park district involved in an important program like this makes me proud to be an FVPD resident," said Geiger. "The playground that was donated to San Salvador will build up families there and give hope to their children."
Stevens said it's the only the beginning of what he hopes will be a long-term, charitable commitment. 
In addition to helping children and families in impoverished areas of the world, donating used playground equipment saves the park district and its taxpayers an average of $5,000 in disposal costs.
Next up is Golden Oaks Park; its playground equipment will be sent to a yet-to-be-determined site this spring. And, next fall, equipment from the Eola Community Center playground will be destined for a new – and sure-to-be happy – home.
It's the type of recycling that creates environments of happiness and restores hope – sustainability at its best.
Jeff Long is the public relations manager for the Fox Valley Park District. Contact him at jlong@fvpd.net