Rediscovering the Lincoln Highway
May 1, 2013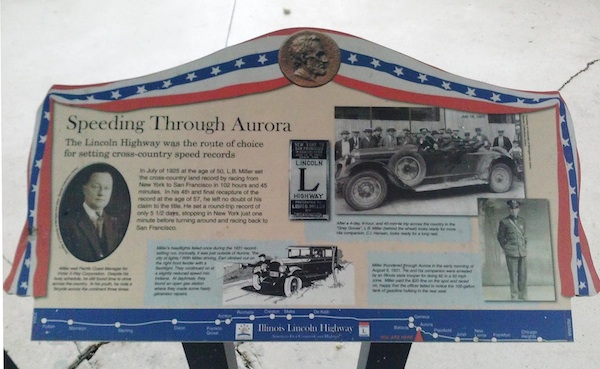 Photo by News Bulletin staff.
Author chases history via bicycle
Murals depicting historical events and hometown pride. Buildings restored to the grandeur of by-gone days. Big-hearted people in small towns, reflecting Midwestern ideals and values.
Dan Libman, an instructor in Northern Illinois University's  Department of English, says he found "something amazing" in nearly every town or village he visited along the famed Lincoln Highway.
"I found the site of the 'seedling mile' in Malta where the first cement was poured once the highway route was established. I was shown the inside of the now-closed Creston Opera House, and I got to go inside Rochelle's Standard Oil station, which has been renovated back to its 1913 splendor."
The award-winning author and avid cyclist marked the 100th anniversary of Lincoln Highway with a bicycle tour of a local stretch of this famed roadway. The idea came about after Dan Klefstad, host of WNIJ's Morning Edition, interviewed Libman last summer for the program's 2012 Summer Book Series.
Libman's fiction collection, "Married But Looking," was published last year. Winner of the Pushcart Prize for fiction and a Paris Review Discovery Prize, Libman has also authored essays and fiction for The Chicago Reader, Santa Monica Review, Columbia and numerous other journals and magazines. He has taught at NIU since 1998.
Klefstad was looking for something "beyond the usual news reports" for the highway's upcoming centenary.
"This highway marked a significant change in our understanding of what travel means," Klefstad says. "To drive home this point, I wanted to reach out to the community of local authors and get a storyteller's perspective. Dan jumped at the opportunity, and he is the perfect guide for this journey. Our listeners are in for a real treat."
Libman says cycling the route helped replicate what someone driving the route in 1913 might have experienced, at least in terms of speed.
He traveled between Sterling and just beyond DeKalb, looping up and back along the highway so he could see things from both directions and a variety of perspectives. Along the way, he met a Lincoln Highway expert and travelers who deemed the highway more interesting than Route 66.
Libman prepared for the project by reading Emily Post's book, "By Motor to the Golden Gate," written before she gained international renown as an etiquette guru. 
The travelogue, which recounts her 1915 cross-country journey, includes an account of two days she spent in Rochelle, Ill., after her motor car became stuck in the mud. 
Post was delighted with Rochelle and its people, and Libman says reading her descriptions of the homes, neighborhoods and people she encountered brought the town and the times to life for him.While many experiences left an impression on Libman, one moment early in his journey stands out.
"I don't want to give away too much," he says, "but at one point, just as I pedaled over the very first cement mile in Malta, a crew from IDOT came along and began filling in a pothole. They let me record them and spoke with me. It was, for me, a really serendipitous moment, to witness the regular maintenance on this small chunk of history."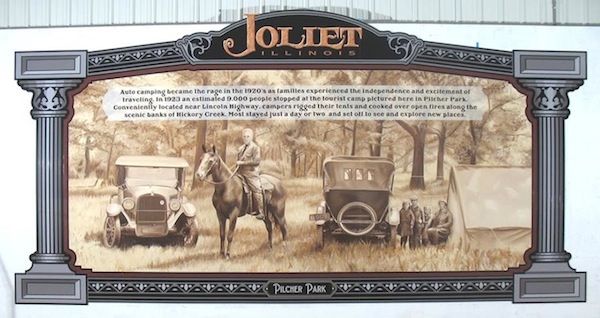 Lincoln Highway memories can be found throughout the region. Murals commemorating notable events along the route and various communuties also dot the region from Joliet to Oswego and Aurora and up through Batavia and St. Charles.  Photos by News Bulletin staff.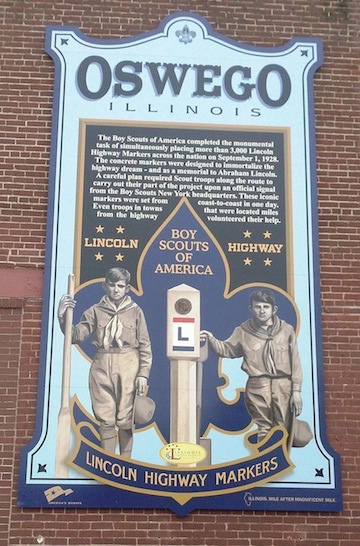 May 18 bus tour highlights area route
Portions of the legendary Lincoln Highway run through through the heart of the Fox River Valley and a local historical group is offering a chance to discover some of its highlights.
The group History Without Boundaries will host a 6 1/2 hour bus tour on Saturday, May 18 running from Oswego through Aurora and on to Plainfield with highlights ranging from Aurora's LaSalle Street Auto Row to historic gas stations.
The 50 Years Along the Lincoln Highway 1913-1963 guided bus tour departs at 9 a.m. from Wheatland Prairie Church (formerly Oswego Prairie Church), 1217 Wolf Road and follows the original route. 
The Lincoln Highway was the brainchild of Carl G. Fisher, founder of the Indianapolis Motor Speedway. He sought to create a coast-to-coast motor route from New York City to San Francisco.
The route was officially dedicated in 1913 as the first national memorial to President Abraham Lincoln. It would eventually run through 14 states, 128 counties and more than 700 cities, towns and villages.
Bus tour highlights will include:
LaSalle Street Auto Row Historic District. The downtown Aurora street was an early automobile commercial center featuring both auto sales and service.
Lincoln Highway Shelter, 1923. The shelter on U.S. Route 20 in Philips Park is one of the original auto camps constructed along the highway as an alternative to a hotel stay. It featured two fireplaces, two ovens and a sink as well as a well water pump.
U.S. Route 30 Motels: Three motels dating back to the Lincoln Highway are still in existence between Aurora and Plainfield: The Willows, Council Court and U.S. 30 Motel.
Highlight 30 Drive-In and Parkside Lanes. The drive-in theater on Montgomery Road is long gone but Parkside Lanes and Aurora Skate remain as part of a once thriving entertainment center.
Lincoln Memorial Park Cemetery. The Lincoln Highway Cemetery Association purchased a farm to start the burial grounds in 1927. 
Plainfield's historic gas stations. A look at former gas station sites is part of an eight block walking tour around downtown Plainfield. Plainfield once had as many as nine gas stations along the Lincoln Highway route in town, some including cafes.
Tickets are $40 per person and include lunch at the Lincoln Highway shelter at Aurora's Phillips Park. 
Trip brochures are available at locations around Aurora, Montgomery, Plainfield and Oswego.
Information is also available on the group's Facebook page (www.facebook.com/HistorywithoutBoundaries) or contact Tina Beaird at (630) 554-3883 or via email (historywithoutboundaries@gmail.com).