Story TELLER
January 15, 2014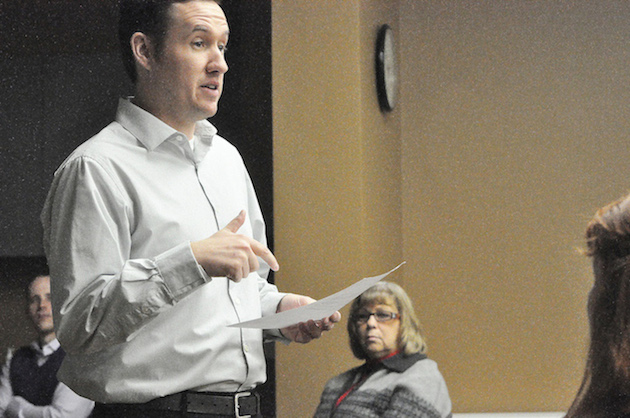 Former Aurora Beacon-News reporter Matt Hanley shared some "True Tales of Aurora, Illinois" at a recent gathering at the Aurora Public Library's Eola Road branch. Hanley, assistant director of community relations for East Aurora School District 131, also signed books and gave tips on writing narrative nonfiction and conducting historical research. (Al Benson photo)
Ex-reporter shares 'True Tales of Aurora' in new book
Matt Hanley still likes to tell tales.
But before a story is told, one needs to do his or her research. And Hanley is no stranger to a good investigation.
Hanley, who formerly worked at The Aurora Beacon-News, wrote a book based on some of the stories he researched and wrote at the newspaper. 
He's not making money off the book (After all, it's not "Fifty Shades of Grey,") but he said he's happy to have preserved important stories that are in danger of being forgotten.
Hanley wrote "True Tales of Aurora, Illinois" because he wanted to reveal stories that were never fully told. 
"I had written several stories for The Beacon-News in a narrative nonfiction form about some of the people and events that shaped Aurora," he said, "as well as some of the people who were shaped by the city."
And who might some of those people be? 
Orville Wright visited Aurora, as did baseball Hall-of-Famer Casey Stengel, gangster John Dillinger and President John F. Kennedy. Readers will learn about the Aurora man who hired Abe Lincoln to defend his business and the police chief who solved the nation's most gruesome crime.
And that's not all. Readers will learn the sad story of what happened to the man who recorded a landmark blues song in Aurora's tallest tower and find out more about the humble boy who was awarded the Medal of Honor for incredible heroism.
Hanley says his two favorite stories in the book probably were those about Casey Stengel, "because I'm a baseball person, and I knew so much about him before I ever realized he was in Aurora," and Orville Wright.
"It was fun reading the articles from the day Wright's planes came and you could feel the awe. You could tell people were seeing something that day (flight) that they didn't believe would be real. There were all these stories leading up to the day they came to Aurora's Driving Park. There were details about how the planes were being shipped. And the flight lasted a couple of minutes and got as high as like 850 feet. It's something we wouldn't even blink at now. But people who saw it weren't the same afterward. And there were people standing there that day who were alive when we made it to the moon. That gave me a lot of perspective."
Hanley also was touched while researching the life of Sonny Boy Williams. "With that one, I actually found out more things than were out there about him. That's one story that wasn't going to be preserved. He was a fascinating and tragic person, but little was known about him. I'm glad I got to bring back the real person for readers."
Hanley grew up in Hoffman Estates and earned bachelor's and master's degrees in journalism from the University of Illinois. He worked at the Elburn Herald and LaSalle News Tribune before being hired by The Beacon-News in 2003. 
For 10 years, he says, he covered "crime, politics, runaway chickens and obscure historical stories for the Beacon." In 2013, he earned a master's degree in education from Aurora University and in May was hired as assistant director of community relations for East Aurora School District 131.
So, why didn't Hanley decide to write a book about his hometown of Hoffman Estates? "It doesn't have history like Aurora," he said. "We had so many people come through Aurora or start here. And there are probably six great, great stories that aren't in the book. There's a lot of cool stuff out there."
Is there a sequel in the works?
"There are more than enough stories out there, but I'd have to find more than enough time to do them," Hanley said. "I have a four-year-old and a 10-month-old, and I have a lot of things in my job that fall under my umbrella, including being the liaison with the alumni association.
"But I am always tucking things in folders that might be interesting to do someday."
"True Tales of Aurora, Illinois" is available at Amazon.com, historypress.net and —as Hanley puts it—even from the trunk of his car!
—Amy Roth, Aurora Public Library.