The Boat Show returns home
April 23, 2014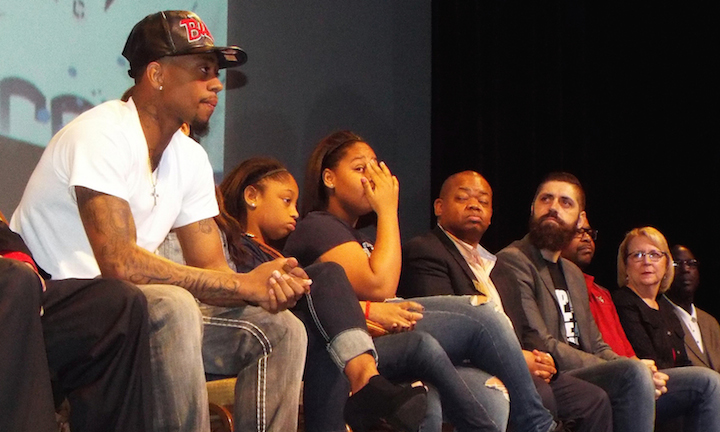 NCAA champion (and former East Aurora Tomcat) Ryan Boatright was welcomed back home in Aurora last Saturday at an event at the Paramount Theater. (News Bulletin photo)
NCAA champ Boatright gets rousing reception from family, friends 
The Boat Show docked at home on Saturday.
After a glorious run to a NCAA Division I basketball championship this month, Ryan Boatright returned to the warm embrace of family, friends and fans.
And the former East Aurora basketball star was quick to return the love at a quickly-arranged gathering of more than 300 delighted supporters at the downtown Aurora Paramount theater.
"This is my home," said Boatright, clad in a tee-shirt, denim pants and a leather Chicago Bulls hat. "I'm proud to say on national television that I'm from Aurora."
The event was sponsored by the city, Aurora Aldermen Scheketa Hart-Burns, and Richard Irvin, East Aurora School District 131 and several community-based and business organizations.
Local dignitaries, former teachers and others who influenced 6-foot UConn guard, spoke with pride.
"The city of Aurora comes here this day to say 'Ryan, we love you,' " said Hart-Burns. "And the great thing that you've done we are truly proud of you. And we see greater things and greater days ahead."
Boatright, the starting point guard, shook off an ankle injury to score 14 points and help lead the Huskies to their fourth NCAA championship on April 7 — a 60-54 victory over Kentucky at AT&T Stadium in Arlington, Texas.
"I came too far to lose," he said after that game. "I worked too hard in all my life to be in this position, and I wasn't gonna let an ankle sprain stop me." 
There was little surprise where that work ethic came from. Strong family and community support reaching back to his formative years on Aurora's East Side were in evidence on Saturday.
"I remember his smile, I remember him for his plucky spirit and I remember him as a terrific kid," said Ann John-
son, his second grade teacher. "Even as a second grader, that passion for basketball was already there. I had him the year his cousin went downstate with West Aurora. And Ryan would come in and he would be so excited about the games that were coming up. He'd always tell me, 'Mrs. J., did you see that shot?' "
Later it was Boatright's turn to make the shots.
During his East Aurora high school career he scored 2,289 points, averaging more than 20 points per game.  On Dec. 10, 2010, Boatright collected 63 points to break the all-time Tomcat single-game scoring record, one that had lasted for 41 years.
As a senior he became the first Aurora player ever named Mr. Basketball of Illinois. 
What's next? 
Boatright is undecided whether to return to UConn for a final season or declare for the NBA draft.
"I've gotta talk to my mother and my family," Boatright told the Aurora Beacon-News. "It's a big decision. I just want to make the right one. I've got 'til the 27th (of April to declare for the NBA draft)."
–Jack McCarthy