To be young, single and living in NAPERVILLE?
April 30, 2014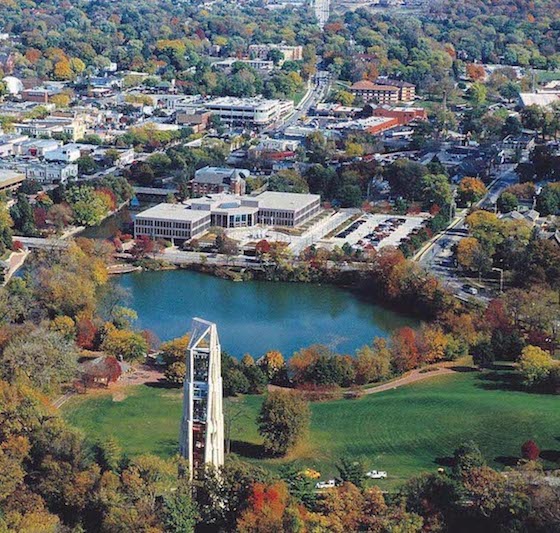 News Bulletin photo.
Forget urban living, a top spot for adults just out of college is right in our backyard
Naperville will never rival places like Chicago's Wrigleyville or Rush St. as popular destinations for partying 20-somethings, but it's still a pretty good place to be young, single and just out of college.
The DuPage County community recently landed among the nation's "Top 10 Best Cities for New College Grads," a study conducted by Livability.com, which rates cities where jobs are located and where many recent college graduates want to put down roots.
"Being part of a campus community in the heart of Naperville provides our students with a wealth of opportunities and benefits that few colleges can match," Martin Sauer, North Central College vice president for enrollment management and athletics, said in a release. 
"(And) graduates and countless North Central alumni have found Naperville not only a great place to launch their career but a great place to call home."  
Naperville, ranked ninth in the national survey, is at the nexus of broad collection of higher education institutions ranging from full four-year campuses to satellite facilities. 
All have traditionally drawn a transient student population as well as more permanent faculty and staff. 
And now Naperville has also emerged as an  attractive place to stay after college.
"Naperville provides recent college grads with a blend of small-town charm and big-city amenities," the Livability profile stated. "It's an ideal setting for young professionals who feel more comfortable in a suburban environment but want quick access to the offerings of a major metropolis."
The city is  home to North Central College while Northern Illinois University, DePaul, College of DuPage, Governor's State and the University of Illinois all has centers in town.
Benedictine University is next door in Lisle while Aurora University and Waubonsee College are a few miles to the west. College of DuPage — one of the state's largest community colleges — is located in nearby Glen Ellyn.
Livability.com, a service of Journal Communications, Inc., estimated 13,688 persons aged 25 to 34 reside in Naperville, tapping into a job base of 39,500. 
"The city's employment base includes technology firms, energy companies, retailers and factories," the report continued. "Citizens here are well-educated; more than 66 percent of 25- to 34-year-olds in Naperville hold bachelor's degrees or higher. Finding an affordable place to rent won't be difficult as nearly a quarter of residential properties in the city are rentals, many of which cost less than 30 percent of an average resident's annual income."
Cambridge, Mass. topped Livability.com's Top 10 list. The entire list is available at livability.com.
Livability.com studied the number of 25-to-34 year olds living in a community as well as unemployment rates, rental vacancies and costs, public transportation and available jobs. It also measured availability of recreational activities plus bars and restaurants that cater to a younger demographic.
—Jack McCarthy