What missing Aurora boy might look like 3 years after disappearance
May 14, 2014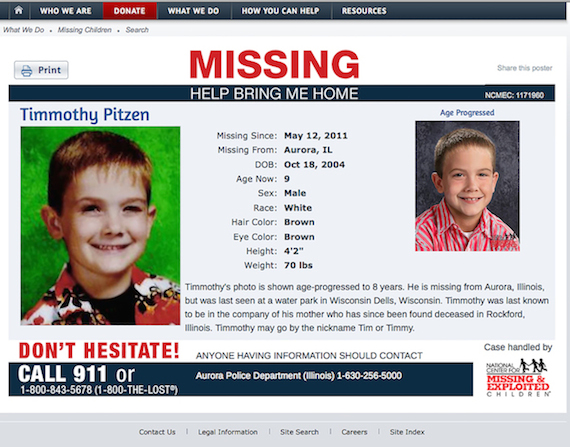 Timmothy Pitzen remains missing  three years after his mother was found dead in a Rockford motel room. 
A new video created by the National Center for Missing & Exploited Children features an image of what Timmothy Pitzen might look like, three years after his disappearance from Aurora. 
The 6-year-old was last seen May 11, 2011, after a trip with his mother Amy. 
She was found dead in a Rockford motel and what happened to Timmothy has been a mystery ever since.
"The image created by NCMEC forensic artists is an important tool in our mission to help bring Timmothy home," said Detective Lee Catavu of the Aurora Police Department. As the lead investigator in Timmothy's case, Detective Catavu says the case of the Cleveland women who escaped one year ago, after a decade of captivity, restored his faith that if Timmothy is out there, he will be found.
"Those three women give us all a lot of hope, and we so badly want to find Timmothy," Detective Cavatu said.
NCMEC's video about Timmothy's disappearance is part of a new project called "The Inside Story." The series gives families a special chance to share their unique perspective about their missing loved ones. In her first on-camera interview about the case, Amy's sister, Kara Jacobs, tells NCMEC she is certain that Timmothy is alive.  
Timmothy Pitzen would be nine-years-old now. When he went missing, he was about 4 feet 2 inches tall and weighed around 70 pounds with brown hair and brown eyes. Timmothy may go by the nicknames Tim or Timmy.
Anyone who may have information is asked to call The National Center for Missing & Exploited Children at 1-800-THE-LOST (1-800-843-5678) or Aurora Police at (630) 256-5500.
–News Bulletin news sources