Yorkville man robbed while delivering pizzas
By Erika Wurst for Chronicle Media —

May 16, 2018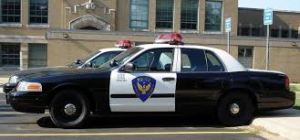 A 28-year-old Yorkville man was robbed at gunpoint on the evening of May 13 while delivering pizzas in Aurora.
According to Aurora police, the man was delivering food for a Montgomery restaurant around 10:20 p.m. when he took an order to a home in the 900 block of North Avenue in Aurora.
As he walked back to his vehicle, the driver was approached by a man who had just gotten out of a white sedan. Aurora Police Department spokesman Dan Ferrelli said the car was similar to a 2009 Chevy Malibu and had been parked on the street.
The man who exited the sedan pulled out a handgun and demanded money from the delivery driver. Police said the driver handed over an undisclosed amount of cash and the suspect walked back to the car he arrived in.
Ferrelli said the suspect was described as a black man, about 30 years old, 5-foot-10, 185 pounds. He had short, black hair, brown eyes, a short, trimmed beard, and was wearing a light-gray, hooded sweatshirt and dark gray sweatpants.
Ferrelli warned that it is important for victims of crimes to call 911 to report the incident before calling to alert anyone else.
He noted that the driver in this case called his boss to report the crime before alerting 911. The driver's boss called Montgomery police (where the pizza restaurant is located), instead of contacting Aurora authorities.
"It is not all that unusual for these types of robberies to be reported in this manner," Ferrelli said. "While we understand the shock and trauma experienced by victims, it is imperative that delivery drivers of any type, their bosses, and all crime victims realize the importance of calling 911. When we're not alerted immediately, we lose precious time in identifying, arresting, and holding the criminal accountable."
Police ask that anyone who saw or knows anything, to call Investigations at 630-256-5500 or Crime Stoppers at 630-892-1000.