Connect Transit Providing a "Safe Place" for At-Risk Youth
February 6, 2013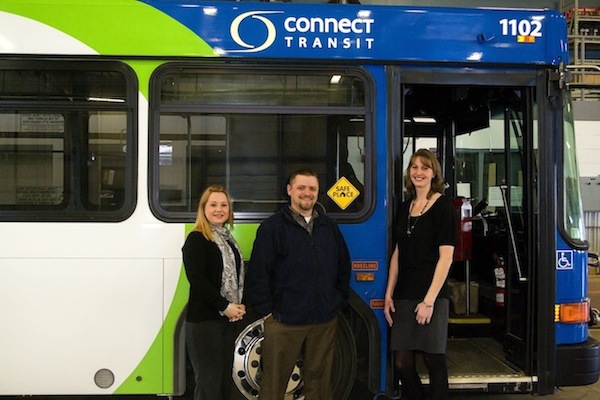 Project Oz Vice President Lisa Thompson (far left), Connect Transit Spokesman Dave White (middle), and Project Oz Street Outreach Specialist Cheris Larson (far right) in front of a Connect Transit bus with a decal of the Safe Place logo, photo by Dave White of Connect Transit.  Photo by News Bulletin staff.
 NORMAL — It isn't hard for at-risk youth in Bloomington-Normal to find help.
Runaway teens and young people who feel threated or unsafe can find help at their nearest bus stop, thanks to a partnership between Project Oz and Connect Transit, Inc.
Connect Transit recently started participating in the Safe Place program that Project Oz, a social service organization that serves Bloomington-Normal, has been participating in since 2008. 
Safe Place is a national outreach and prevention program designed to provide immediate access to help for youth experiencing abuse, neglect or other crisis situations, such as riding with an unsafe driver or being followed by a stranger. Safe Place communities offer a network of businesses, public locations and mobile units that display the bright yellow and black, diamond-shaped Safe Place logo.
"The point of having a nationally-branded symbol (logo) is that, if I'm a runaway from Bloomington and end up in Texas, I see that same sign in Texas at a Walgreens or a McDonalds, I know exactly what that sign means," said Project Oz Vice President Lisa Thompson. "It's really a safety network across the United States, but it does tend to be used at the local level. 
"A community may have a McDonalds, they may have a gas station, they may partner with local businesses — it really just depends on the community. The sign is universal. They want it to be kind of branded for young people: if I need help that's where I can go."
Project Oz provides Safe Place locations at eight fire stations, including five in Bloomington and three in Normal, as well as the Jesus Coffeehouse, 806 W. Locust St., Bloomington. Connect Transit, Inc. recently started providing a mobile Safe Place location for young people in Bloomington-Normal.
"It's a mobile Safe Place site," said Thompson. "Any young person between the ages of 10 to 17 who feels threatened, have run away and maybe doesn't want to turn themselves into the police department or needs to talk with a counselor, can board the bus and just tell the driver, 'I'm here for Safe Place.'
Connect Transit, Inc. will waive the bus fare for those participating in the Safe Place program. The public transit system has trained all of its bus drivers to assist young people who board a bus for the Safe Place program. 
"The way I've explained it to drivers is, kids won't always come up and tell you right off the bat that they're in need of help," said Connect Transit Spokesman Dave White. "You might have somebody who gets on and pays and sits down and rides the bus while they try to make up their mind. If something like that happens they have to be prepared for it. They also have to be prepared for a youth that might come up to the front door and ask for help and then they might not have anything on their person except for the clothes that they wore when they walked out the front door."
Each of the 42 fixed route and special services Connect Transit buses have a decal of the Safe Place logo posted on it.
"All of our buses have a yellow diamond shaped decal that's supplied near the front boarding door and that says 'Safe Place,'" said White. "Whether they're fixed route buses or smaller paratransit buses, every bus on every route is marked as a 'Safe Place.'"
The bus driver provides a secure place for the youth to wait while he or she contacts Project Oz, who sends someone to offer help and support. The staff at Project Oz are trained and ready to respond, and will help the youth access safety through their offices or their emergency shelter network.
Young people also can go straight to Connect Transit headquarters, 351 Wylie Dr., Normal, during its normal business hours from 8 a.m. to 5 p.m. Monday through Friday to access help. 
Safe Place was established in 1983. Since then, more than 240,000 young people have accessed help at a Safe Place site or contacted their local youth shelter after learning about Safe Place at a school 
To find out where the nearest Safe Place site is, young people can text the word SAFE and their current address to 69866.