Illinois Fish and Feather Expo
January 8, 2014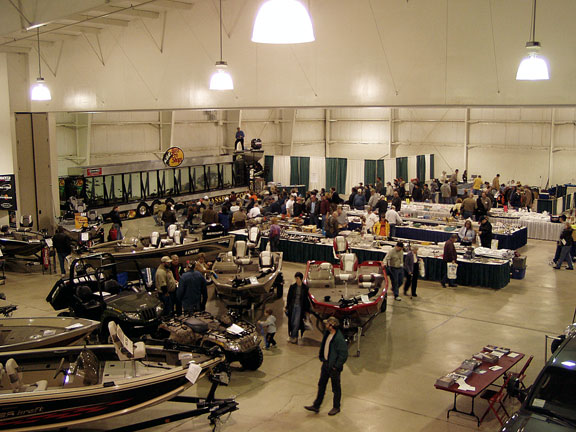 Photo Courtesy of Illinois Fish and Feather LLC.
The Illinois Fish and Feather Expo is returning to the Interstate Center in Bloomington this January 24th for its 11th year. 
For 11 years the Illinois Fish and Feather Expo has been held at the Interstate Center, growing in size through the years. This year the Expo is expected to bring in around three to five thousand visitors from the 24th through the 26th. 
The Expo will feature over 120 different exhibitors that cover the entire spectrum of the outdoor recreation industry from fishing tackle to ATVs.  
"We have lots of boats, motors, pick up trucks, and ATVs." Larry Andris, Organizer and Promoter of the Expo, said. "There will be many exhibitors selling products such as hunting gear, fishing tackle, boat covers, rods and reels, as well as food items like beef jerky and fudge. There will also be resorts selling trips to places like Canada, Minnesota, and Wisconsin."
Also at the Expo will be daily seminars covering topics on fishing and hunting, as well as one on the new Conceal and Carry gun law.
The featured speaker for the Expo is Frank Hyla, host of "Time on the Water" a fishing show that airs on Comcast Chicago Sports Net. Hyla, a lifetime Chicago area resident, has been an outdoor writer and television host for twelve years. He is also the owner of Time on the Water Outdoors, a marina, tackle, and archery shop in Spring Valley, Illinois. 
There will be lots of local speakers from the area as well, including Steve Welch, Regional Crappie Champion, guide, and outdoor writer, and Paul Center, Owner of Angling Adventures and Custom Rods (a custom rod shop and fishing guide service). 
The expo isn't just for adults, it features things to do for the whole family. 
"It's a family friendly event." Andris said. "We have plenty to do for the kids. A favorite is the bow fishing practice, where the kids can actually shoot a Styrofoam fish with a bow and arrow."
Food will also be served at the Expo, so people can stay as long as they please. 
"We'll have tables and stuff set up for an afternoon meal, so people can eat and get back to the expo." said Andris. "We have a vendor that brings fish as well as other things such as hamburgers and hotdogs. We also have Longhorn Smokehouse selling their stuff, and Weber's Weenies from Downtown Bloomington."
There will be a raffle for a grand prize fishing trip to Eagle Falls Lodge in Red Lake Ontario Canada.
The Expo being held at the Interstate Center in Bloomington starts Friday January 24th and goes through the 26th. The Expo is open from Noon to 7 pm on Friday, 9 am to 7 pm on Saturday, and 10 am to 4 pm on Sunday. Tickets can be purchased at the door for $7 for an Adult, $3 for kids ages 6-12, and free for kids 5 and under. 
More information on the speakers and expo can be found at the Expo's websites at http://www.illinoisfishandfeather.com.