Master Gardeners Offer Home, Lawn and Garden Day
February 19, 2014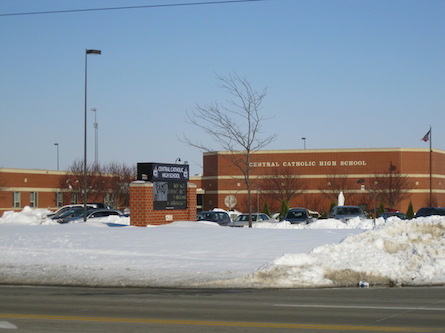 Photo by Ryan Martin.
This March 1st the 12th annual Home, Lawn, and Garden Day will be returning to the Central Catholic High School in Bloomington. 
The annual Home, Lawn, and Garden Day, sponsored by the University of Illinois Extension Master Gardeners of McLean County, is a day full of educational workshops and inspirational speakers that hope to jump start the upcoming gardening season. 
"It's a wonderful day that people from around the state come to enjoy." Marsha Clark, Chairwoman of the event, said. "We try to usher in, and get people excited for the upcoming gardening season, which is especially important after such a harsh winter."
The event goes from 8:00 am until 3:25 pm, with plenty to do throughout the day. 
The day starts with a keynote speech from Mac Condill, the general manager of The Great Pumpkin Patch in Arthur, Illinois. Condill will speak on what has made his farm such a hit among agritourism destinations, and his experiences growing more than 300 varieties of pumpkins, squash and gourds. 
After the keynote speech, there are three separate workshops and one mini workshop for people to sign up for. Each workshop slot has a selection of 14 unique topics for people to choose from.
"The topics cover all kinds of gardening topics, from lawn care to Monarch butterflies." Clark said. "They cover the entire spectrum of gardeners, from beginners to the more experienced."
One of the newer additions to the Home, Lawn, and Garden Day is the "Dessert with a Master Gardener" mini workshop. 
"Last year we began offering the Dessert with a Master Gardener as a 20 minute quick hit program where you could come in, get a dessert, and listen to a master Gardner talk about a variety of things." Clark said. "That was a big hit, but the time limit made it hard to get out a lot of information, so this year we lengthened it to 30 minutes."
Denny's Donuts and Bakery from Bloomington will be catering the event, and attendees will be able to choose from a variety of foods all covered by the registration fee for the day. 
Attendees are also welcome to browse all the different items available from the 29 vendors attending the event. 
A silent auction will be held throughout the day, where people can bid on a variety of unique and custom items made by Master Gardener volunteers. The proceeds from the silent auction will go towards helping fund the other Master Garden projects throughout the year. 
"This is one of the four Master Gardner projects where we try to make a profit." Clark said. "Many of our other projects are donated to the community free of charge."
The day will wrap up with a keynote speech from Jennifer Brennan, the Horticulture Information Specialist and Manager of the Education Center for Chalet Nursery in Wilmette, Illinois. Brennan will be presenting "The Art, Skill, and Fun of Container Gardening" where she will share her professional advice on the best techniques and information for successful planting.
To attend the 2014 Home, Lawn, and Garden Day you must register before hand. Registration is $50 and covers lunch, refreshments, and snacks. You can register through their website at http://web.extension.illinois.edu/lmw or by calling 309-663-8306. Registration is open until February 25th, or until all 300 spots are filled.