New Sugar Mama Location
February 5, 2014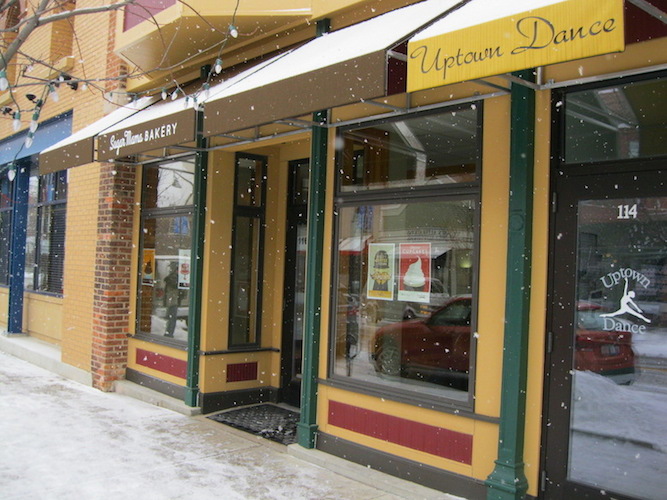 Photo by Ryan Martin.
This January Sugar Mama Bakery celebrated its' one year anniversary in their downtown Bloomington location, and opened up a new location in Uptown Normal. 
The new bakery is located in Uptown in the space previously occupied by the frozen yogurt store Chill Out that closed in November. Krista Gaff, Co-Owner of Sugar Mama Bakery, had been looking for a location in Uptown, and jumped on the opportunity for the ideal location. 
"We had dreamed about having a downtown and uptown location, so when it came open it was a no brainer." Gaff said. 
She believes that the Uptown location is a perfect match for their bakery. 
"We love the character of the location." Gaff said.  "The way it's been developed with all the small businesses that each have their own specialties. It's nice to be part of that, and we're looking forward to being a part of that community."
The location also happens to be a good way to attract students of Illinois State, as well as young families of the area. 
"We wanted to better reach the ISU students and ISU in general, so Uptown Normal is a great fit." Gaff said.  "It's also a great opportunity to reach young families, since it's so close to the children's museum."
The bakery mainly sells cupcakes, but is continually expanding their menu by adding cookies, bars, cake pops, and new flavors. 
Since opening up the new location, the bakery has also begun to do a fundraiser each month for non profits. 
"Every month we're focusing on a particular non profit organization." Gaff said. "We either pick an existing flavor, or create a new flavor, and have the proceeds from that cupcake go towards the organization."
The idea started back in October when they began selling pink cupcakes to benefit breast cancer research. They followed that up with an Easter Seals cupcake in December, then decided that it should be a monthly thing. 
They also plan to use the new location as a place where they can bring awareness to, and educate people, on a variety of non-profit organizations. 
"We're excited about utilizing the new space as a springboard for the community to learn about some of the non profits that don't always get a lot of attention." Gaff said. "Just bringing awareness to the incredible organizations in town and the incredible things they're doing is very worthwhile."
The month of February will feature a cupcake that will benefit the non-profit Jesus House located in Bloomington. 
"Jesus House is a home in Bloomington that provides meals, support, and shelter for many people." Gaff said. "They don't really need many volunteers, so raising funds for them is really the best way we can help them"
The bakery is also currently working on creating a new flavor inspired by India, to support a nonprofit organization that helps fights women trafficking. 
For more information on Sugar Mama's Bakery and all their available flavors you can visit their website at sugarmamabakery.net. Custom orders are also available through their website. 
The new bakery is located at 116 W. North Street in Uptown Normal.