Nominations Needed for "I Have A Dream" Award
November 27, 2013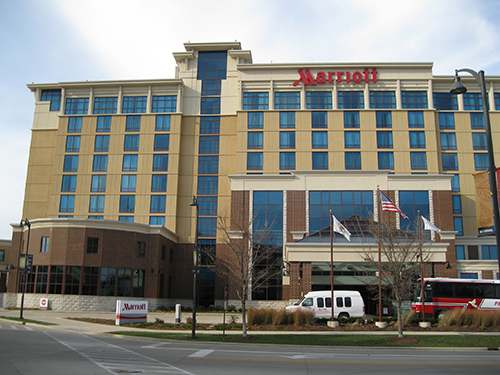 Photo Courtesy of Ryan Martin.
Since 1977 The Bloomington and Normal Human Relations Commissions have annually awarded those who best honor the legacy of Dr. Martin Luther King Jr. 
This years Martin Luther King Awards Program marks the 38th year of the awards. The Commissions are seeking nominations to recognize two local high school students and two adults for their participation in human relations causes. 
Dalia Diaz, a member of the Normal Human Relations Commission, explained what the commission is looking for in a nominee. 
"We're looking for someone that emulates a lot of Martin Luther Kings beliefs and behaviors that are done selflessly and for the benefit of others" said Diaz. "Things that give everyone an equal opportunity to succeed and reach the American dream."
The nominees will be evaluated based on their commitment to improving and fostering mutual respect among people of different racial, ethnic, religious, and other backgrounds, as well as the use of new and creative measures to fight discrimination, prejudice, and the effects of past discrimination. 
"The choice of who should win the award is always extremely difficult" explained Diaz. "There's always very strong candidates that have done so much for the community."
In 1994 the Youth "I have a Dream" Award was added to honor those in high school for their service to the human rights and relation cause. 
"What I get excited about, regardless of the winners, are the kids and what they do as young adults" said Diaz. "You see some amazing people out there that are going to impact the future and are already doing so now."
The winners of the awards will be announced at the 38th Annual Rev. Dr. Martin Luther King, Jr. Awards Luncheon on January 18th 2014 at the Marriott Hotel and Convention Center in Uptown Normal. 
The Luncheon, taking place from 1:00-3:00 pm, will feature Kevin Powell, who will be discussing The Legacy of Dr. King for Today's Younger Generation.
Diaz emphasized that the award crosses all racial, gender, and religious boundaries.
"People sometimes think that the Martin Luther King award is just about the African American community," said Diaz. "But it's about a man who had a dream, that created a vision, that became a movement. He gave that vision a voice, and that voice can be of many people who have been discriminated against in the past, present, or in the future. It could be because of their age, weight, disability, culture, or anything. Everybody has an equal right to life, liberty, and the pursuit of happiness, and that's what we're fighting for."
If you would like to nominate someone for the award, nomination forms can be found online at www.normal.org or by emailing Sally Heffernan at sheffernan@normal.org. Nomination forms can also be picked up in person at Bloomington City Hall, 109 E Olive St. or the Town of Normal Administration Office, 11 Uptown Circle.
Tickets for the January 18th Luncheon at the Marriott Hotel are available online through eventbrite.com or at Normal and Bloomington city halls for $20 per person, or $200 for a table of 10.