Third Sunday Market
May 14, 2014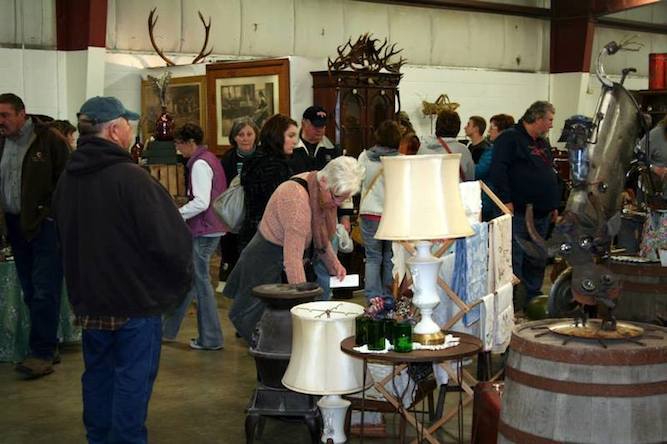 Photo Courtesy of Third Sunday Market
On the third Sunday of each month from May through October the Third Sunday Market takes place at the Interstate Center in Bloomington. 
The Third Sunday Market, which has been held in Bloomington since 1988, offers antiques, collectibles, crafts, and more. 
"The thing about our show that I think is fairly unique is that we're not really tied to one style, there's a cross section of things," Mike Raycraft, organizer of the Third Sunday Market, said. "In may we'll have around 500 vendors. There will be high end antiques, vintage items for people looking to decorate their homes, collectibles, hand made crafts, unique food items, and a lot of gardening items."
With the market occurring every month, there's new stuff for people to see at each date.
"About 60% of our vendors are there every month," Raycraft said. "We have other vendors that may do it once or twice a year. It makes its really interesting because you never know what you're going to see, there's always something different."
The market often has non-traditional vendors that are just there to sell off their collection of items, and will only be at one show.  
This season the market has dealers from around 22 different states, with some traveling as far as Arkansas, South Carolina, and Minnesota. The market also has many local vendors that have come every month for years. 
The first market of the season will be on May 18th, and is expected to have plenty of merchandise. 
"The thing about the May show that people are most excited about is all the fresh merchandise," Raycraft said. "The vendors have been out gathering merchandise for around six months, working all the estates, farms, and other shows, stockpiling new items.
With all the variety in types of items available at the market, the show attracts a variety of age groups and buyers. 
"We have families that will come out and they'll give their child 5 dollars so they can buy a vintage toy or action figure and have a good time," Raycraft said. "We also have people that are high end, advanced antique collectors who come from all over the United States to buy stuff."
Being near a college, the market also attracts quite a few college students.
"There's a lot of stuff at the market that college kids like and we see a lot of them, especially in the fall," Raycraft said. "If they're trying to decorate their apartment and they want to have a vintage, retro look we have a lot of items for that. There's always a lot of vintage beer memorabilia, which is a big seller with them."
The market is held at the Interstate Center in Bloomington at 2301 W. Market Street from 8am – 4pm. Admission is $6, and free for children 13 and under. 
The Market will be held on May 18th, June 15th, July 20th, August 17th, September 21st, and October 19th. 
For more information you can visit http://www.thirdsundaymarket.com or visit their Facebook page by searching 3rd Sunday Market.