Top of the Class Antique Show
January 15, 2014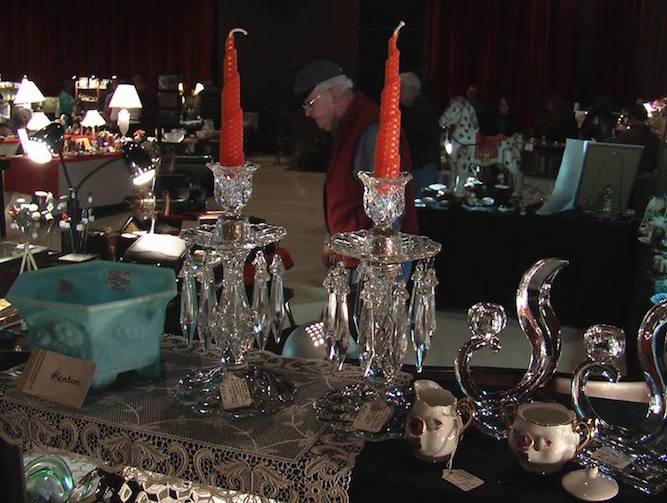 Photo Courtesy of Illinois Antiques and Vintage Shows.
This January 31st the Top of the Class Antiques show is coming to back to Normal for its 8th annual show. 
The show will be open from Friday, January 31st through Sunday, February 2nd at the Bone Student Center, on the Illinois State University campus. 
42 vendors will be at the show coming from a variety of places ranging from in town, all the way to Columbus, Ohio. 
The show will have all kinds of antiques that should cover anyone's interests.
"We strive for a general line of antiques, so we personally choose and invite the vendors to come  according to their area of interest." Doug Jennings, Show Coordinator, said. "A lot of antique dealers are very specific with the things they sell, for example we have a lady that's exclusively antique and estate jewelry, and one that's exclusively antique and vintage toys. So as a result of personally choosing the vendors, we end up with pretty much any category of antique you can think of."
This years show will feature some very unique and special items, including an 1850's Lincoln era desk, a Shaker bench from the 1700's, Tiffany style stained glass lamps, and much more. 
New to the show this year, will be the ability for people to bring in their own antiques to have appraised.
"On Saturday we're letting people bring in one item for appraisal by an expert, for a fee of ten dollars." Jennings explained.  "It will be a public appraisal, so we'll have the expert in a separate room with cameras and projection screens, so that people can come in and watch him talk his way through the items."
The expert doing the appraisals will be Paul Brown, the owner of Atlanta's Gallery 63 and the star of the Discovery Channel show Auction Kings. Brown will be doing two appraisal sessions running approximately two hours each on Saturday. 
Though the show has had around 42 vendors since it first started, the amount of visitors to the show has steadily grown throughout the years. This years show is expected to bring in around 1,500 people. 
Tickets for the show are purchased at the door for only $5, and are good for all three days of the show. 
In an effort to get more young people to attend the show, students who present their student ID's can get in free on Saturday and Sunday. 
"What we're trying to do is to foster younger people to come out and look at everything we have." Jennings explained. "There are lots of things they'd like, from vintage jewelry to sports collectibles."
Any valid student ID can be used, and is not limited to Illinois State ID's. 
The show starts at 5 pm on Friday, which tends to be the busiest day of the weekend, and closes at 8 pm. 
On Saturday the show is open from 10 am to 5 pm, and is open from 10 am to 4 pm on Sunday.
The Bone Student Center is located at 100 North University Street in Normal.