Auction Bringing Together Artists to Help Benefit Community
March 12, 2014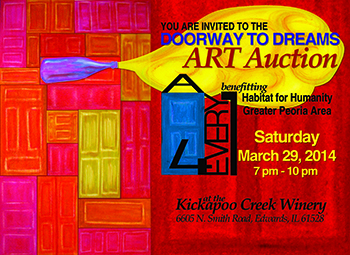 Poster image courtesy of Habitat for Humanity and Hiram Toraason.
Local talent will be coming together later this month to share a piece of their artwork in an auction that will help raise money for the Greater Peoria Area Habitat for Humanity.
This is the fifth annual art auction, this year titled Doorways to Dreams. It will feature around 65 pieces of artwork of various mediums – such as photography, glass work, paintings, woodwork, etc. – from a number of different artists from the Central Illinois area.
"This is my first experience learning more about the art community here," Lisa Sheehan, Habitat for Humanity's community relations and development coordinator, said. "I've just been amazed, and it's so fun seeing the incredible talent that's right here and how many people there are and how generous they are."
Sheehan thinks there will be something there for everyone. Not only will the types of pieces be varied but the prices will range from a low $20 or $30 to higher prices like $1,000. A complete catalogue of all the auction pieces can be found at habitatpeoria.org.
Hors d'oeuvres and wine will be served to everyone in attendance. In addition, a VIP option will be available for those interested. It will include live music from the Brazilionaires, a local Latin band, and an opportunity to meet with artists before the event.
The proceeds from the auction are going toward Habitat's 2014 Build Season. This season includes the building of six houses – three in Peoria, two in East Peoria and one in Morton – and Habitat will be helping with Washington disaster relief efforts, as well.
The organization will also be expanding its Brush for Kindness program, where they go into a community and do painting, landscaping work, and minor renovation and repair for houses that exist in the community.
The auction will be held from 7-10 p.m. on March 29 at Kickapoo Creek Winery in Edwards. The VIP reception will start before the auction at 6 p.m. Regular tickets are $30 per person or $200 for a table of eight, and VIP tickets are $50 per person.
For more information about the auction and/or how to buy tickets, you can call Lisa Sheehan at 309-676-6729 or email her at lisa@habitatpeoria.org. You can also visit habitatpeoria.org. 
There will not be as much student work present as in earlier years, but there will still be a mixture of newer artists and veterans. One of those veterans will be Hiram Toraason. He has been doing glass art for 14 years and has submitted a glass piece called Red Dress to the auction. Toraason also owns Toraason Glass in Peoria.
Since being an artist is not always the most lucrative profession, Toraason appreciates the chance to impact and give to Habitat in a bigger way than he normally would.
"We're not really the demographic that makes a large impact on organizations by making donations," Toraason said. "So, just by donating artwork towards the organization, it'll not only help them have a great show but also help them raise money, and people are a little bit more inclined to spend money when they know it's going to an organization."
Beyond the monetary benefits his artwork can bring to the organization, Toraason says there is an extremely rich fine art history in Peoria and the auction will be a good place to show how Peoria is a good hub for the arts.
The bringing together of so many artists also has a benefit for the artists themselves. 
"I think anytime you're interacting with other artists, that serves as a motivation or inspiration for yourself," Craig Stocks, a local photographer for many decades, said. "You never know when you might hear something that sparks an idea."
For the auction, Stocks has submitted a skyline photo of Peoria. The piece is called light through the trees, and he picked this photograph because of its contrasting warm and cool colors particularly between the warm city lights and the cool, blue night sky.
In the end, Stocks went back to how art can benefit the average person.
"[The] art[s] in general, whether it's visual art or performance art [or] music [or] whatever, all helps enrich our lives and makes the Peoria area a richer community," Stocks said. "Any involvement or exposure to the arts, especially if we can get children exposed to the arts…it sparks creativity, it helps [them in] learning how to think."
Stocks went on to say there are many studies that show educational and academic advantages to art programs, such as music programs where you are learning to play an instrument or a more traditional program that has you drawing and painting.
"All of those things help people realize that they are creative and can be creative, and if you go to one into a later career, whether you're an engineer or a nurse or accountant or whatever, those sparks of creativity continue to help you," Stocks added.