Bradley Scholarship Gives Back to Teaching Community
January 8, 2014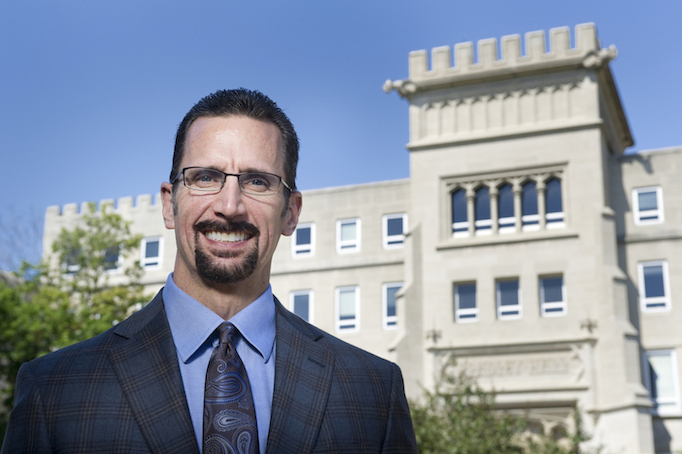 Jeffrey Bakken, Dean of Bradley University's Graduate School.  Photo Courtesy of Duane Zehr.
It has become more commonplace in today's competitive job market for master degrees to be the way to get a leg up on the competition. Sadly, cost can sometimes be an issue for those seeking higher education. To help those facing this financial wall, Bradley University has a scholarship to help out educators in Central Illinois.
The Professional Educators Scholarship has been offered by Bradley for the past 10 years. It states that any full-time school district employee in Central Illinois can apply for the scholarship, which can shave 50 percent off tuition costs per credit hour – with 18 hours being allowed per semester.
"Bradley wanted to make tuition competitive in regards to other institutions," Jeffrey Bakken, Dean of Bradley University's Graduate School, said. "We realized that tuition sometimes can be a detriment, that teachers, [realizing their salaries are not as high as others,] might not want to come here because of the costs."
Applicants must have had a 3-point-0 minimum grade point average during their last 60 hours of undergraduate schooling in order to qualify for PES. More requirement information can be found at www.bradley.edu.
Bradley's graduate program focuses on giving educators an up-to-date view on various aspects of education, such as teaching and learning, human development and student assessment.
"Our student population and the schools [are] more diverse than ever before," Bakken said. "We have different ethnic groups, we have different types of students who learn differently, students with disabilities, and sometimes in undergraduate programs there's no way to give teachers all the information that they need to teach all these different types of students."
Lessons are geared more towards application. How do you teach a certain lesson? How do you get all students involved? How do you assess students and make sure they are all learning?
The hope is that Bradley's higher education program will open teachers' eyes to different ways of going about teaching and to make educators recognize that everybody learns differently.
So, Bradley is trying to instill its graduate students with effective and efficient ways to do this without creating more work for local teachers than is necessary by having them do 10 different things for 10 different people.
Bradley wants to give its graduate students more opportunities to learn and more ways to get access to the curriculum, with the belief that these different opportunities will trickle down into the classes the graduate students are teaching.
Another added benefit to the program is the gathering together of so many teachers, Bakken says. They learn off each other by talking through different problems and scenarios and coming up with solutions, which is sometimes all it takes for students to learn and it can be a benefit to graduate classes.
The Bradley professors who teach these local educators are also a big plus, Dean Cantu, Department of Education Chair at Bradley University, says.
All graduate faculty members are tenured, all have doctorates or doctorates in education and all are former classroom teachers. These professors have a sort of bird's-eye view of the classroom experience that they can pass on to their students.
Research and research projects are also a big part of the graduate program. The Bradley graduate professors, who all have tenure, are involved in research all the time, they are getting grants, and, in some cases, even giving presentations at professional conferences and co-writing articles with graduate students.
"There's tremendous value added from having faculty [who] are actively engaged in research and who are bringing that into the classroom," Cantu said. "They're bringing that scholarship into the classroom so that it's integrated into their curriculum, and it's illustrated in their instructional approaches."
It all comes back to giving graduate students more opportunities to learn and allowing them to bring those opportunities back to their classrooms.
Due to the demanding nature of teacher's lives and schedules, the graduate program has been designed with some flexibility. Classes usually start at 4:30 p.m., so teachers can come to class after school concludes, and Bradley mixes up the class types with online, in-class and hybrid courses.
While the university is always in contact with different districts and telling them about the scholarship, more advertisement is being planned to help get the word out to an even wider audience of local educators.
In the meantime, Cantu sums up what he believes the program does with a quote from Hockey legend Wayne Gretzky when the player was asked how he had managed to maintain such success over a long period of time.
"He [Gretzky] said, 'It's simple,'" Cantu said. "'While everyone was skating to where the puck was at, I was skating to where the puck was going.' That's our approach here, as well."
"So, we're excited about the Professional Educators scholarship, because it allows us an opportunity, like I said before, to give back to the area educators," Cantu added. "Also, it allows them to obtain what we think is the knowledge and the skillset needed to be effective teachers not only today, not only where the puck is today, but where the puck is going tomorrow."