Community Still Giving Back to Tornado Victims
February 5, 2014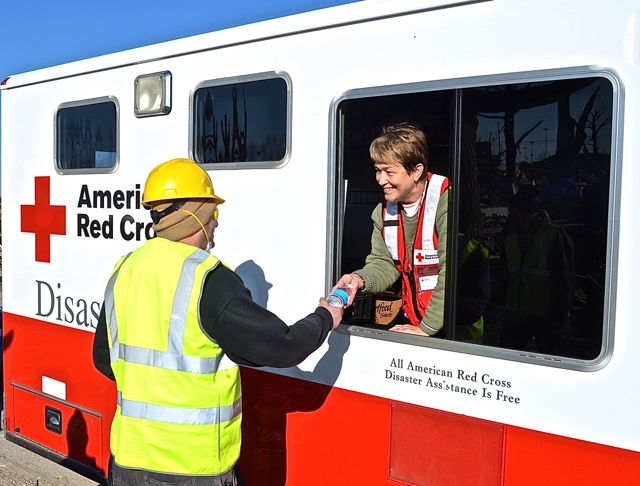 Photo by Carl Manning, American Red Cross, taken in Washington, IL on Thanksgiving Day, 2013.  Courtesy of Erin Miller.
The moments after a disaster can be an opportunity for a community to come together. The same can be true for the weeks, months and maybe even years following one.
On Nov. 17, 2013, a devastating tornado ripped through parts of Illinois – Tazewell County getting a large portion of the storm. The twister damaged around 700 homes, injured over a hundred people and killed a few. Around two-and-a-half months later, relief efforts are still under way from organizations like the Red Cross and the Peoria Riverfront Museum.
Red Cross case workers are still meeting with families every day to discuss matters having to do with the tornado like insurance, says Erin Miller, Central Illinois's Red Cross regional communications director.
The relief organization has also been working with its community partners, such as St. Vincent de Paul, to help bring recovering items that people will need now and months from now. One such item is a house in a box, which includes things like mattresses, dining room table and chairs, a sofa, kitchen apparel etc..
"What I see from my vantage point is there's a lot of families that are frustrated," Miller said. "Not many people know what it's going to be to go through a disaster and what you're going to have to deal with along the way. I think being able to get support from organizations [and] from the community [and] to let them know they're not alone in rebuilding [is important]."
If you are interested in helping out with Red Cross's relief efforts you can call the Central Illinois chapter at 309-677-7272.
The rebuilding itself can take a long time. One Red Cross relief effort is nearly a year on and is still going. Another began a few years ago and only shut down last month.
The physical rebuilding of homes is important, but mental health is also a crucial factor in disaster relief. Red Cross provides mental health professionals to help people process the disaster and its aftermath.
Talking through their struggles can be extremely important for adults. It is especially important for children, who need enormous support from home and, in some cases, the mental health community.
"For adults, we can rationalize things a little bit better," Miller said. "When you're busy trying to rebuild your life, a lot of times there's that distraction where you get something else to focus on, but for kids who maybe didn't understand or they couldn't comprehend the fact that their home was gone or that their neighbor's home was gone…for them it's a little bit more difficult maybe."
Dealing with all these problems, having so many phone calls and going to so many meetings related to pulling their lives back together, makes people forget to have fun sometimes. Miller believes the opportunity for disaster victims to go out and have fun is another key part of relief.
The Peoria Riverfront Museum has helped to provide some of those chances for a carefree night out. On Jan. 27, the museum held an event for tornado victims to come, enjoy what the museum has to offer for free, and record and talk about their experience with others.
"If you think about what happened in New York after the attacks on the World Trade Center, museum attendance went up dramatically," Sam Gappmayer, president and CEO of the museum, said. "People need a place to go to reflect, to process [and] to sometimes just get away from what they've been through, but I think that's going to be the case with any kind of devastating occurrence like that."
Gappmayer has heard many people say how cathartic telling their stories could be. Although the museum is happy to provide an outlet for people to talk, Gappmayer stressed that the museum is not in any way a counselor and should not be thought of as such.
Based off some of the people Gappmayer has talked to, there has been some fear of the community forgetting about the disaster to a certain degree. He thinks it is important to not forget the still present financial and emotional needs of the victims.
A one-year exhibit is in the works to help keep the cause in everyone's minds. It will open later this year on Nov. 17 and will feature video, pictures and artifacts that were recorded, captured and collected by tornado victims.
One of the goals of the event is to have a look back and see what the year has been like for the community, how the tornado impacted it, how the community has changed, how everyone has grown and evolved in positive ways, and to look at some of the negative aspects people are continually having to deal with, such as all the red tape associated with recovery. 
A number of stories were recorded during the Jan. 27 event and more stories will continue to be collected and recorded throughout the year.
If you are interested in sharing your story in the exhibit, you can go to the museum and give them a copy of your story in almost any medium or you can call the museum at 309-686-7000.
Gappmayer hopes the one-year exhibit creates a chance for sharing that brings people together and creates a greater level of empathy. 
"It's almost a cliché and it's difficult to say to people who've been through it but experiences like this can make communities stronger," Gappmayer said. "There are things that we can do to ensure that happens beyond the impact on just the people who went through the thing but [also the impact] on all of us as we experience the resilience and courage of those that went through this and learn and grow from those experiences."