Events Brings New Perspective on Four Seasons
January 29, 2014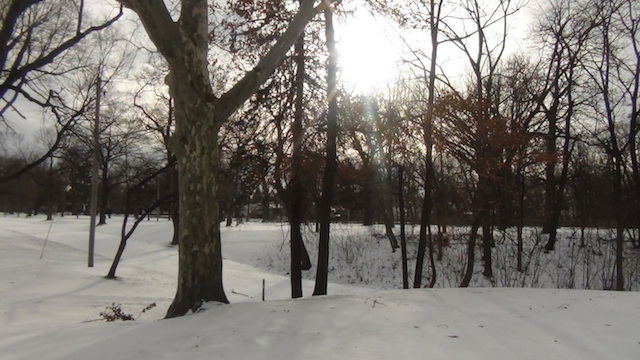 Photo of Upper Bradley Park courtesy of Tim?Rosenberger.
We are currently in the throngs of an extremely cold winter. The weather can vary from a manageable 30-degree to a bitter 1-degree. Christmas being behind us and no big holiday or event to tide us over, many are looking forward to the warm embrace of spring. But maybe the winter weather holds more treasures than we think.
At 2 p.m. on Feb. 9 the Peoria Riverfront Museum Giant Screen Theatre will be hosting "Seasonings: The Writing of Jerry Klein." Klein was, among other things, a columnist for the Journal Star for 55 years before retiring in 2009. He critiqued movies, local theater, symphony concerts, arts shows, ballet and etc. He also had a Sunday column that included nature pieces, social commentary and other essays.
Klein's nature essays will be the focus of the event, which will cover all four seasons. The essays being presented describe what each month brings in terms of changing weather, but they also capture the emotions and activities of people around each time of the year.
Paul Gordon, one of the show's performers and who worked with Klein for 15 years at the Journal Star, says Klein's ability to turn a phrase so that you are able to picture exactly what he is putting down on the page makes him a good writer.
Beyond possessing the ability to find the peacefulness and beauty in every season and being one of the best writers of his field in the area, there was also little repetition in Klein's work, Gordon says.
"He seldom repeated himself," Gordon, who is also the editor for The Peorian magazine, said. "He could write about the same subject more than once but never repeated himself on what he was saying. Everything is always fresh."
The show will be done in a reader's theater format. There will be little movement by the actors/readers and sets and costumes will be non-existent. The evening begins with March and continues through the rest of the months before ending on February.
The most difficult part of doing the show for director Roberta Koch, who has known Klein for many years, was editing the selected essays down to a manageable runtime. There was enough material for six hours' worth of programming, but Koch was able to cut it down to an hour.
"I tended to take the things that were the most visual [and] the most descriptive in the context of its whole essay, keeping in mind that the attempt of this show is to go through the 12 months and to give two or three descriptions of each month from Jerry," Koch said.
Koch has also included essay with a lot of wit. Klein's ironic sense of humor permeates his writing, Koch says. He often pokes fun at himself. In one story, he described himself as "stalking through the woods as an Ojibway Indian."
The weaving in and out of humor helps to make the nature essays interesting and engaging for the audience, Koch added.
"Could you sit and listen for an hour to serious, straight essays?" Koch said. "As beautiful as they are, there's got to be a little variation in them, and Jerry's very good about including humor in many of these to kind of change things up a little bit."
Having been a director for years, Koch thinks the way you keep an audience interested is by implementing change throughout the duration of the show. This is why she has employed three male voices and two female voices with, hopefully, a third on the way.
Koch is looking to have one or two pieces read by a male voice, and then she will bring in a female performer to help change things up.
The male talent includes WCBU personality and community theater actor Lee Wenger, former PBS "Illinois Adventure" host Jim Wilhelm and Gordon, another performer commonly seen in local theater. The females consist of local theater actress Maria Lane and Bonnie White, who have been acting in community theater for many, many years.
Photos, provided by well-known area photographer Joe Couri, will supplement the show with some visuals of nature. The images will be projected on the museum's Giant Screen behind the actors.
Tickets will be $15 and can be purchased at the door or by calling the Peoria Historical Society at 309-674-1921. All proceeds from the event will go towards the Peoria Historical Society.
Koch would like people walking out of the show to understand how much of a treasure Klein has been for the area for so many decades. 
"By being a part of this reading, I would hope that it just gives them [the audience] an interesting way of looking at the area around them with new eyes," Koch said.
The director is as frustrated as anybody with the cold weather as of late, but she appreciates the ability to enjoy all four seasons. Living across from Upper Bradley Park, she appreciates the chance to enjoy a gorgeous winter sunset shining down through the trees.
"I just stop and look at it and marvel at its beauty and the fact that somebody along the way gave me the idea to look at something like that and appreciate it instead of just giving it a passive glance," Koch said.