Glasford Woman to Compete in Summer Death Race
April 17, 2013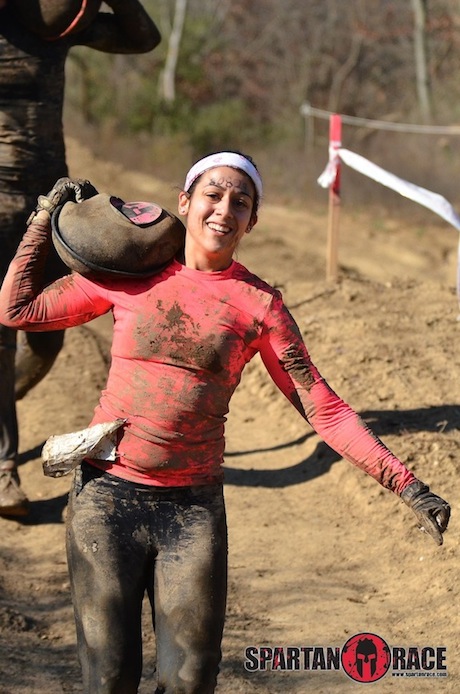 Michelle Lomelino competing in the 2012 Team Death Race.  Photo provided by Andy?Weinberg.
GLASFORD — Michelle Lomelino isn't exactly sure what grueling and difficult tasks she'll face in the 2013 Summer Death Race that will be held  June 21 at Pittsfield, Vt.
She isn't even sure if she'll finish the annual event that lasted 62 hours last year. 
 "I wish I knew exactly how to prepare," said Lomelino, a graduate of Illini Bluffs High School. "All I know is I'm going to be covering a lot of miles on mountain trails, most likely carrying something heavy — individually as well as in a group."
Having watched her boyfriend, Lee Biga of Pekin, compete in the annual event the last two years, the 23-year-old knows the event will be long, grueling and unpredictable.
"The first time I went out there I thought: this is crazy, I would never do this," said Lomelino. "But after I became friends with so many people involved, I felt a little jealous that I wasn't going along for the adventure. This is what led me to sign up for the shorter Team Death Race last September. It lasted 25 hours. That week after I got back I signed up for the Summer Death Race.
"I just want to experience it for myself. To get out of the daily routine for just one weekend and leave my heart and soul in those mountains — even if it means having the worst couple of days of my life, at least I got out there and felt alive."
To finish the Summer Death Race participants must complete a series of 15-20 mental and physical challenges throughout a 40-mile course that runs through the Vermont woods. Some of the challenges from past events have included crawling underneath barbwire in cold, muddy water; chopping firewood; climbing up mountains with large pieces of firewood strapped to your back; swimming in very cold water; memorizing the names of the first 10 U.S. Presidents or a Bible verse after 20 hours of racing; and carrying heavy tree stumps, cinder blocks and buckets full of logs for long distances. 
The event challenges change every year and participants are unaware of what challenges they will face, prior to the race. 
"The race changes every year and we try to exploit your weaknesses," said Summer Death Race Co-Founder Andy Weinberg, a Peoria native. "We create an incredible event that forces athletes to deal with adversity. We don't tell you when the race starts. We don't tell you when it finishes. We don't tell you what you'll be doing. It's very challenging mentally."
According to the Summer Death Race website www.youmaydie.com, only 15 percent of the participants finish the event.
Weinberg created the Summer Death Race, along with his friend Joe DeSena. After competing together in several triathlons and adventure races, Weinberg and DeSena created Peak Races, which organizes the Summer Death Race, as well as several other races and programs. 
"We've done hundreds of races, each all over the place and they are all predictable," said Weinberg, who graduated from Richwoods High School in 1989. "We thought it would be fun to come up with something unique that would challenge athletes mentally, physically and emotionally."
A non-athlete as a teenager, Lomelino "never would've dreamed of doing something like this" a few years ago," she said.
 "I was about the least athletic person in school," said Lomelino. "I was not really athletic at all, until I started working out when I was 19 because I wanted to lose weight. I stuck with it and really fell in love with working out and I started to see results. I started lifting weight pretty heavily about a year and a half ago and did a powerlifting competition in February of this year."
Lomelino has been training for the event "almost every day."
"Right I'm training almost every day," said Lomelino. "I try to take a day off here and there throughout the week, but sometimes I just feel like I can't prepare enough. I rest by doing splits — one day I'll train legs, one day back, one day chest and so on — so other body parts can rest on the off days. 
"I practice chopping wood often with an ax, as well as a sledgehammer on a tire to try to build some more power in my swing. Throughout the winter I've been mainly strength training, but now that it's getting nicer out we will start hitting the 10 miles of trails at McNaughton Park in Pekin. I'll be doing some hill repeats and long hikes with 50 plus pounds of weight in a backpack. I'll also be adding in some trail running as well. A couple weeks before the race I will have to taper off and start saving my energy for the mountains."
Biga has competed in the event for the past three years. He has never finished the event, said Lomelino.
"He has competed in 2010, 2011 and 2012," said Lomelino. "I went out there for 2011 and 2012. Each year was so different. In 2010, he made it 32 hours. There was only one task left until the end of the race, but he didn't know that at the time. They like to keep you in the dark about everything. In 2011, he made it about 30 hours, and in 2012, he had to drop at about 12 hours due to an injury — he twisted up his knee on a 25-mile hike carrying a kayak overhead in groups of about 20 people."
According to Weinberg, Joe Decker is the only person from the greater Peoria area who has finished the Summer Death Race. A native of Cuba, Ill., Decker, now a resident of San Diego, Calif., won the Summer Death Race in 2010 and 2011, becoming the first two-time winner of event. 
Winners of the Summer Death Race receive a skull trophy and a cash prize. Entry fee for the 2013 Summer Death Race is $600.
To register for the Summer Death Race, email Weinberg at andy@peak.com.