ICC launches 9-1-1 Telecommunicator Program
April 24, 2013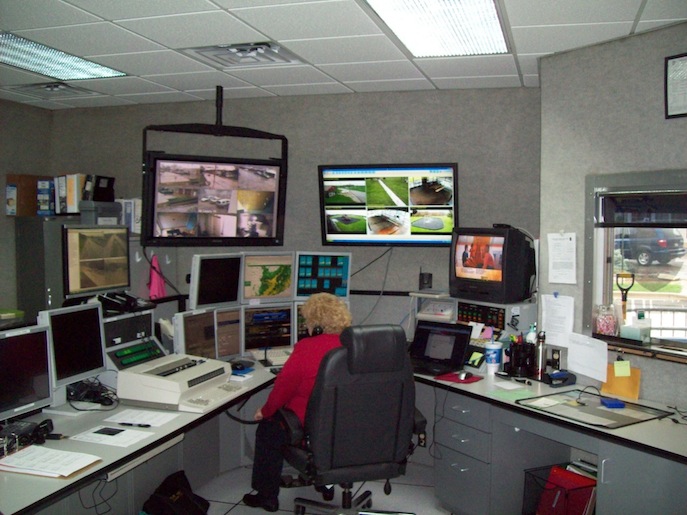 Lucy?Vaughn?working?at?the?Village?of?Bartonville's?dispatch?center. Photo by Wes?Schmidgall.
PEORIA — The City of Peoria Emergency Communications Center has lost eight people with more than 250 years of combined experience to early retirement in the last year.
In addition to the City of Peoria, several other municipalities in the greater Peoria area desperately need emergency dispatchers.
At the request of local law enforcement officials, Illinois Central College has launched a new certificate program aimed at preparing students to enter emergency dispatcher positions in the greater Peoria community.
In January, ICC launched its 9-1-1 Telecommunicator Certificate program that consists of five-core classes, including Introduction to Criminal Justice, Criminal Law, 9-1-1 Telecommunicator Part I, 9-1-1 Telecommunicator Part II and a 150-hour internship.
The certificate program is the first of its kind in downstate Illinois.
 "It was back in about the spring of 2011 when local law enforcement officials approached ICC with the need for a 9-1-1 program," said Michelle Weghorst, coordinator of ICC's criminal justice department. "There wasn't anything like it in our area, and they requested that we put something together. They had a need for dispatchers. So what we did was we put an advisory board together, which consisted of Chief (Brian) Fengel, some of our professors, David Tuttle, and other dispatch personnel. 
"We put together an advisory board and we basically researched who had this kind of program and it was only some colleges in northern Illinois, and so we decided the need was here and then the experts kind of determined what we needed, and we came up with this 15-hour certificate."
According Weghorst, students can complete the certificate's four classes and 150-hour internship in one academic year. 
"They can actually do it in one academic year," said Weghorst. "They can start in the fall and then do their internship in the summer."
Students enrolled in the certificate program will intern at local dispatch centers.
"They'll also do some ride-alongs so they get to see the other end of the dispatch," said Weghorst.
The instructor of the 9-1-1 Telecommunicator Part I class, David Tuttle, the manager of the City of Peoria Emergency Communications Center, said there is a high demand for emergency dispatchers.
"There's plenty of employment in the 9-1-1 dispatching world, not only in the Peoria area, but all over the country," said Tuttle. "There's a real hunger for telecommunicators, especially those that would be training."
Experienced dispatchers that work for the City of Peoria make between $60,000-70,000 per year, said Tuttle. 
"It's a living wage job with great benefits," said Tuttle. "The hours are probably something that sometimes shy people away, but if you can adjust your life to shift work, it actually can be a very good thing."
Bartonville Police Chief Brian Fengel, who teaches the criminal justice component of the certificate program and is a member of the ICC Criminal Justice Advisory Board, said anyone who can type fast and multi-task should consider becoming an emergency dispatcher.
"You have to be a good multi-tasker and a decent typer," said Fengel. "If you can do those in combination you can make a real good dispatcher. It's a good career opportunity for young individuals, people who may be looking at a second career."
Lucy Vaughn, an emergency dispatcher for the Village of Bartonville, said anyone wanting to become an emergency dispatcher should have "good people skills."
"You have to be able to talk to people on the phone because a lot of times they just want somebody to be able to listen and you have to be helpful," said Vaughn.
Anyone who applies for an emergency dispatcher position must pass skills, typing, drug and medical tests, as well as a background check. 
Students in the certificate program need to be able to type at least 45 words per minute with 10 errors or less, said Tuttle.
"Some of the students are struggling with the typing component, which really is not part of the class, but something that we need them to kind of overemphasize the importance of them to be able to prepare themselves for typing improvement and speed," said Tuttle.
The background check for an applicant of an emergency dispatcher position is "very similar" to the background check that is performed on a person applying for police officer position, said Tuttle.
"Quite honestly, 25 percent of the applicants fail the background check for one reason or another, either themselves personally or someone they choose to cohabitate with," said Tuttle. "If you have a felony conviction, you might as well not apply. If you are living with a drug dealer or someone who is not friendly with the law, then you really need not apply either.
"If you have been arrested for theft or something like that or criminal trespass, assault, battery, those types of things, we would not hire you. If somebody has a DUI from 4-5 years ago and they've been clean ever since, have a valid driver's license, then they probably would be considered then. If they fail to show for their traffic ticket of their DUI, then we wouldn't hire them."
To learn more about the certificate program, call the ICC Criminal Justice Department at (309) 690-7691.