Little Known Civil Rights Activist to be Talked About Tonight
February 19, 2014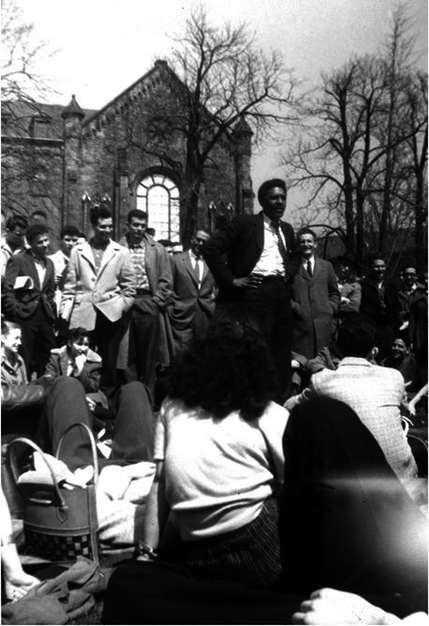 Bayard Rustin speaking to college students in the North about Southern civil rights movement – photo courtesy of Rustin estate.
Rosa Parks, Malcolm X and Martin Luther King Jr. are all common names found in countless history books. For every notable historical figure who makes it into classrooms, though, there is one who slips through the cracks and into obscurity. This is certainly true of Bayard Rustin, a little-known civil rights leader who will be the focus of a lecture at Bradley on Wednesday.
The presentation will be done by University of Chicago-Illinois Professor John D'Emilio, who published a book on Rustin in 2003 called "Lost Prophet: The Life and Times of Bayard Rustin." D'Emilio wanted his book to show the range of Rustin's influence.
"Almost any question you might have about how to organize and make change in the world in the direction of social and economic justice, Rustin's life and career has something to say about it," D'Emilio said.
"He was involved in so many different issues and his activism stretched really from the 1930s through the 70s and 80s, and it encompassed the peace movement, it encompassed the civil rights movement [and] it encompassed the labor movement," he added.
D'Emilio's speech will give the audience an idea of the scope of Rustin's career. The professor will begin with the issues of movements and of social change that Rustin's life raises, D'Emilio will then move on to an overview of Rustin's activism from the 1940s to the 1960s, and he will conclude with the consequences of Rustin being gay and how it created tremendous problems for his work and influence.
The presentation will be from 7-8 p.m. tonight, Wednesday, February 19th at Bradley's Neumiller Lecture Hall. Admittance is free.
Rustin was known as a great organizer among his contemporaries; he was the one who organized the March on Washington in 1965. What D'Emilio would say the most important thing that Rustin ever did was influence and mentor Martin Luther King Jr.
The philosophy of non-violence that Gandhi and later activists like King practiced was first brought into the struggle for racial justice in the United States by Rustin. The activist experimented with non-violence in the 1940s in both the North and the South before being introduced to King.
After some civil rights legislation was passed in 1964 and 1965, Rustin kept moving forward with more forms of activism. One thing he pushed the National Association for the Advancement of Colored People to do was fight for an increase in the minimum wage, because he did not see the point in African Americans getting the new rights they had gotten if they could not make a living.
This drive to keep going and looking forward stayed with Rustin all of his life as he continued to fight for causes – such as bringing international attention to the suffering and needs of numerous refuge populations – until his death in 1987. 
A primary reason for his role as a behind the scenes man was due to his sexuality, and since he was not an as often seen figure as a Martin Luther King, he is not known by many today.
With the 50th anniversary of the March on Washington last year and Rustin recently being awarded the Presidential Medal of Freedom by President Barack Obama, Rustin is getting a little more recognition, but his important role in racial equality and civil rights remains unknown to most, D'Emilio says.
"We [Americans] don't know much history," D'Emilio said. "From this era, people know Eisenhower and Kennedy and Johnson and Nixon, and they know Doctor King and Malcolm X and maybe they've heard of Joe McCarthy. But, honestly, we don't carry with us the name and the knowledge of people from more than a generation ago."
D'Emilio wishes more people would study Rustin as he thinks there is a lot to learn from his life, and he believes Rustin might someday be taught a little more in school. He does not, however, think Rustin will ever be as widely known as someone like King.
Looking slightly away from Rustin's work for a moment, many who met described him personally as being larger than life, D'Emilio says. They said he was an American Gandhi. He was also thought of as an extremely sophisticated and culturally intelligent man.
D'Emilio would use the word hopeful to describe the important figure.
"No matter how bad things got, he never gave up on his commitment to fight for a better world," D'Emilio said. "So, there's something both very hopeful about his outlook that it's not pointless, it's not hopeless [and] I can make a difference."