Local Group Supporting the Restoration of the Madison Theater
February 20, 2013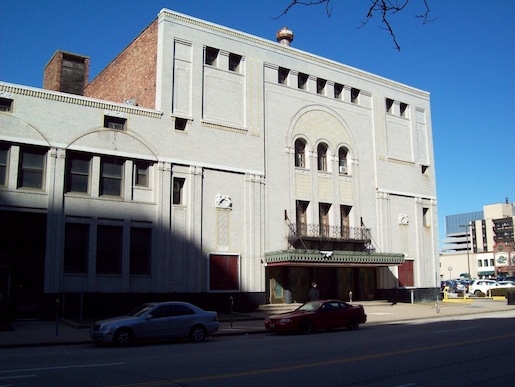 Photo by Wes Schmidgall.
PEORIA — The historic Madison Theater in Downtown Peoria has entertained hundreds of thousands of people since it opened on Oct. 16, 1920.
However, the 1,700-seat theater that was added to the National Register of Historic Places on November 21, 1980, hasn't entertained anyone in the past nine years.
The Madison Theater, 502 Main St., Peoria, closed in 2003 after Peoria city inspectors determined it would need several safety upgrades, including a sprinkler system and an elevator, as well as electrical and roof work.
"The city changed some ordinances that made it almost impossible for us to use it as either a night club or for live entertainment," said J.D. Comfort, one of the owners of the theater.
Currently, Comfort is leasing space in the Madison Theater building to tenants that operate bar establishments along Main Street. 
The Madison Theater building will eventually be sold or renovated, said Comfort.  
"We have no plans for it right now," said Comfort, who also owns Jim's Bistro in Peoria Heights. "We're either going to try to renovate it ourselves or sell it. We have plenty of options with the building, but we don't know what we're going to do with it yet."
According to Comfort, it would cost around $18 million to restore the theater.
Recently, a group of local musicians and music enthusiasts started to raise funds for the renovation of the Madison Theater, in hopes of reopening the theater as an entertainment venue. 
Through its Facebook page, Facebook.com/Battleforthemadison, the group has sold several "Save the Madison" T-shirts. The group hoped to raise $10.5 million for the renovation of the theater through fundraisers and proceeds from T-shirt sales.
"We were trying to come up with money to restore the building for him," said Rebecca Harriss, one of the group organizers. "It was all going to go to him in a fund that would be set aside for restoration efforts. We also garnered tons of volunteers, volunteer construction companies, volunteer restoration companies, architects, corporate sponsors, the whole nine yards. It's free money. We're not asking him to do any work or anything like that."
Last week, Comfort told members of the group that he would not accept money for the renovation.
"I told him (member of the group) he was wasting his time, trying to raise $12 million to put into somebody else's building," said Comfort. "It doesn't make sense."
The group will donate the proceeds they have collected from T-shirt sales to the Make-A-Wish Foundation. They will continue to sell T-shirts and donate proceeds to charity.
"We plan to continue to sell merchandise and support the community in not wanting the building torn down," said Harris. "We feel as though we have done our job as far as getting attention goes. It's been made very public, and at some point Mr. Comfort will have to answer and comment as to what his intentions are."
In addition to selling T-shirts, the group is distributing "Save the Madison" flyers. 
"Businesses are hanging up flyers in their windows, people are emailing state officials, congressmen and letting them know that this isn't an issue left to one person," said Harriss. "It should be something the public should be able to be a part of. The building has a historical marker on it."
According to Harris, the group wants to advocate the restoration of the theater, peacefully.
"Our intentions were not to go up against the Comfort family, nor to make their lives miserable," said Harriss. "The building has been empty and useless for years with nobody answering as to what they're going to do with it and I think that right now people just want to know what their intention is with the building, what they can do to stop him from tearing it down."
Designed with an Italian Renaissance exterior and Neo-Classical style interior, the Madison Theatre originally hosted both vaudeville acts and silent films. It started operating films with sound in the late 1920s. 
The theater's auditorium features a high-domed ceiling with classical-inspired plasterwork decorating both the ceiling and side walls. The ceiling of the theater's lobby is also domed, and its facade features extensive terra-cotta work, with a triple-arched window over the marquee.
In the 1980s, the original entrance and part of the lobby were demolished and turned into a bar. 
The theater became a concert venue in the mid-1990s, with many popular bands playing there, including B.B. King, Ray Charles, Creed, REO Speedwagon, Fiona Apple, the Smashing Pumpkins, the Insane Clown Posse and Slayer.
The theater is listed on the National Register of Historic Places, a federal database of protected structures. That registry does not prevent a building from being demolished unless federal or state money is used on a rehabilitation project. Only a local historic landmark status prevents an owner from razing a structure unless permission is granted by the city's historic preservation commission.