State Grant to Fund Construction of New Glen Oak Park Exhibit
January 23, 2013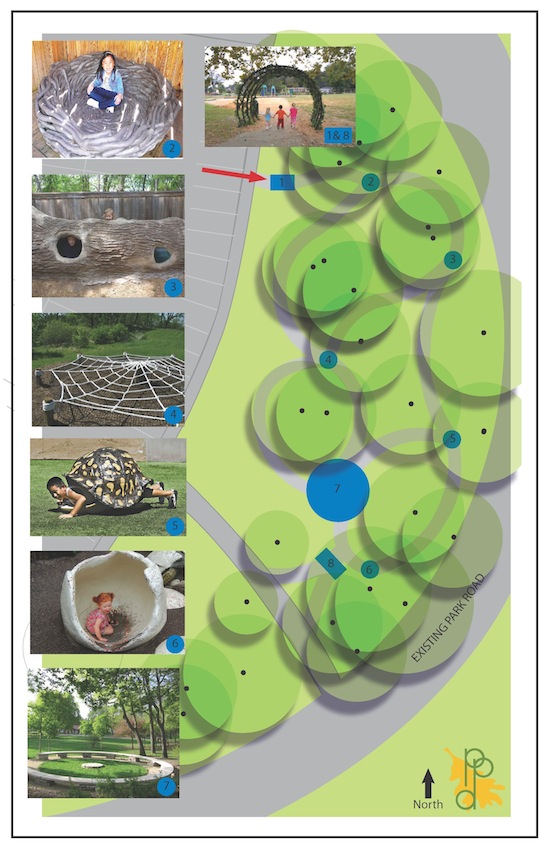 Concept design provided by Emily Cahill.
PEORIA — Using the funds from a $180,000 Illinois Jobs Now! grant, Power of Play Peoria plans to construct an outdoor exhibit between the Peoria Zoo and Glen Oak Park Pavilion. 
The outdoor exhibit will be named Adventure Grove and feature mazes with kids-sized animal habitat structures. It will be free for all visitors of Glen Oak Park, 2218 N. Prospect Rd., Peoria.
"It's going to be a free open space that kids can use anytime that the park is open," said Emily Cahill, a cabinet member of Power of Play Peoria. "First we're going to have a maze using permeable concrete through the oak trees that are in that area of the park, so kids will be able to work their way through the maze to get from one side of the activity to the other. Along the maze there will be different stopping points where we'll have kids-sized animal habitats, so that kids can learn how animals live and they'll be able to climb and play on those different structures.
"We're also going to have a book walk. When kids start at one end of the maze and work their way to the other, at different points, we'll have a stopping station where they can read two pages of a children's storybook. We'll be able to change those (storybooks) out all the time. Depending on what the theme is for the month or the week or whatever activities are going on, we'll be able to change that out to support that theme."
Power of Play Peoria plans to host "counsel rings" at Adventure Grove.
"We will have what we're calling a 'counsel ring' where we'll be able to have groups come in and kids can come and listen to story time or participate in maybe an animal experience with zoo educators. We look forward to working with lots of different community organizations to have activities there."
Construction of Adventure Grove will cost around $200,000, said Cahill.
"In addition to the grant that we received, we are working with the Rotary Club of Peoria-Downtown," said Cahill. "They are celebrating their 100th year. They have made a commitment to our Power of Play campaign and so we're working with them to begin construction and hopefully have it completed in 2013 because that is their centennial year."
Power of Play Peoria hopes to start construction on Adventure Gove this summer.
"We hope to be able to break ground sometime in June or July, and then it's a relatively short construction time, so hopefully in early fall we'll have it completed," said Cahill.
Power of Play Peoria is a collaboration between the Peoria Park District, the Peoria Zoological Society and the Junior League of Peoria that has organized a campaign to raise funds for a five-phase redevelopment of Glen Oak Park.
"Those three entities have come together to provide a day-long destination for play here in Glen Oak Park," said Cahill. "Adventure Grove is one of five different pieces that we're working on for the park."
Adventure Grove is phase two of the five-phase redevelopment project.
"Barton Pavilion with the gift shop and great visitor amenities is the entry now for the zoo," said Cahill. "That's the first thing we've been able to complete. Adventure Grove will be the second phase that we'll be able to add, as a result of the Power of Play campaign."
In phase three of the redevelopment project, the Glen Oak Park Pavilion will be transformed into the Peoria Playhouse Children's Museum. Classrooms and exhibit space will be built onto the Barton Pavilion, during phase four. During phase five, a new exhibit called "What Are We Doing Today?" will be built inside of the Peoria Zoo.
"We're working on a new exhibit for inside the zoo," said Cahill. "It is focused on water and the role of water in life cycles. Kids will be able to see amphibians, they'll be able to play in a kid's creek area and they'll learn about water conservation and the importance of clean water.
"We'd like to be able to build the things as we get the money to do it, so that we show the community that we're making progress and we're able to increase the opportunities piece by piece for kids and families to come and play."
To donate to the Power of Play Peoria campaign, call (309) 681-3500 or visit www.powerofplaypeoria.org.