"TSWCOT": A Story of Love and Support
August 14, 2013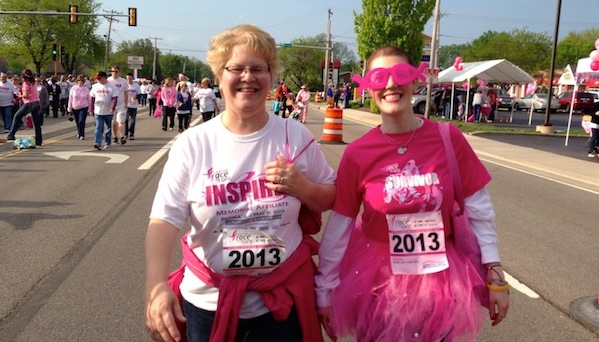 Photo?provided by?Katie?Parker.
Katie Parker and her mother, Renee, participated in the Susan G. Komen Race for the Cure in the past, but this is the first year she walked as a team captain and now a survivor.
The 2000 IVC High School graduate, who now lives in Chicago, was diagnosed in June 2012 with breast cancer.
"As you can imagine, this is terrifying news for anyone to receive, but this was difficult for me being so young and for my mother for the same reason," Parker said.
The month before Parker's diagnosis, Renee, who still resides in Chillicothe, had graduated from Illinois Central College with her Associate's Degree as a medical office assistant.
"She actually had already started working somewhere and couldn't focus. We were trying to figure out since I live in Chicago where I could logistically have my surgery and who will care for me because I live by myself," Parker said.
Renee put her career on hold to take care of her daughter.
"She rearranged her whole schedule to take care of me. She told me to start making appointments and she would be there for all of it," Parker said.
Parker said her mother's degree went to good use as she was able to help her daughter with research, finding the right doctors and talking to the insurance companies.
"She loved it and it was a stress reliever for me. I told her I was fine with her talking to all of the insurance companies because I didn't want to," Parker said with a laugh.
Parker said when someone is diagnosed with cancer, the doctors often tell the patient to bring a buddy to all appointments and her mother was that for her.
"She was my own little medical dictionary. Her classes gave us a leg up. She asked questions I forgot about. She helped me make the best decisions for my treatment," Parker said.
"I think it helped her by me allowing her to do that. It definitely helped me because I didn't know much about anything," she added.
After many tests, appointments and second opinions, Parker came down to Peoria the very next month after diagnosis and underwent a double mastectomy with immediate reconstruction.
"I liked the doctors in Peoria better and I was closer to my family and 'Nurse Mom.' Because we caught it early and I'm so young, I wanted to be aggressive with the treatment," Parker said.
While she was in recovery, Parker said her mother had to help her shower and get dressed like she was a child again.
"She did it like it clockwork and like it was her job. You never expect as a 30-year-old that your parents will ever have to do that for you again. It was hard on me physically and emotionally," Parker said.
Parker said after surgery, she learned she had minor lymph node involvement and was facing four months of chemotherapy at Northwestern Memorial Hospital back in Chicago.
"My mom started shopping for all of the goodies I needed to make my apartment chemo-friendly. Food storage shelves, containers, baskets, microwaveable dishes, etcetera. Basically all the tools I needed to make food quick and delicious because I would probably be too tired," Parker said.
Parker said Renee also gave her a gift when she visited her during that first round of chemotherapy – something inspired by a song Parker used to perform for her grandmother.
"It was a beautiful ring inscribed with 'TSWCOT' – The Sun Will Come Out Tomorrow. I could never imagine that this song, this memory, would become my motto," Parker said.
Parker said her mom said she was so excited and proud to give her the ring that she could hardly sleep the night before.
"I look at this ring every day and think of strength, staying positive, my grandma and my mom," Parker said.
In the midst of her own medical issues, Parker said her grandfather fell ill and underwent several operations while Renee had an emergency appendectomy.
"She wouldn't even let me come home to help her out because I was quickly approaching my final chemo treatment and she didn't want me to risk getting sick and not being able to finish," Parker said.
"How unselfish! She just picks up and keeps on trucking," she added.
Parker said her mother always taught her about empathy and going through this experience she has really learned the meaning of the word.
"Going through what I have gone through, you need help and you don't feel and you need people to understand. This was like the big light bulb moment where I finally understand the message she has been trying to teach me my whole life," Parker said.
Parker finished her last round of chemotherapy last December and in January she started taking medicine once a day, a treatment that will go on for the next five to 10 years.
"I went on a little vacation in January too and I think that was my big reset button. I feel amazing and better than before. I am healthy and cancer-free and have no reason to think it will ever show its face again," Parker said.
This past May, on Race for the Cure Day, Parker's Team Support Your Girl(s) and its 16 members finished in the top 10 percent for team fundraising with more than $1,600.
Parker also was sporting a custom ensemble thanks to her mother.
"I mentioned awhile ago to my mom about wearing a tutu for the race, but I decided to dress in regular clothes. When I came home, my mom handed me a gift bag and told me 'this is my vision for you for the race' – the cutest tutu ever," Parker said.
"She spent three to four hours hand-making my tutu because she couldn't order one on time. She is the most thoughtful woman," she added.
Parker said people don't think enough about the caretakers in situations like hers and she really just wanted to give her mother some recognition.
"I wanted people in our town to know how amazing she is. She is my angel and my hero and I love her very much," Parker said.