Wheels O' Time Museum Opens New Building
May 15, 2013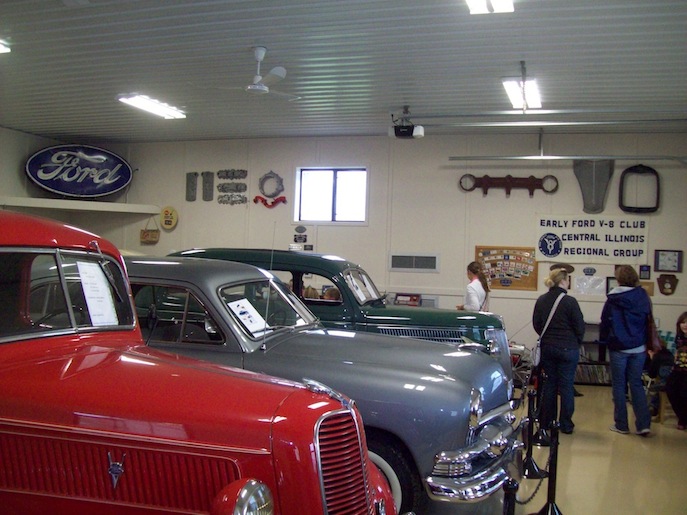 Photo by Wes Schmidgall.
DUNLAP—Gary Bragg still remembers when the Wheels O' Time Museum opened 30 years ago.
"First day we opened — we worked all night, opened and the neighboring businessses all put floral bouquets in front of the museum," said Bragg, the museum's president. "That was really nice."
The museum, 1710 W. Woodside Dr., Dunlap, operated out of one building when it opened in 1983. It now has four buildings.
 "We started with just this building here (the building attached to the main entrance) and if you look at some of the pictures from 30 years ago, it was pretty sparse in here," said Bragg. "It's not sparse anymore. We have a lot of things. We cover a lot of different areas."
The museum opened its fourth building May 1. It includes a Ford Motor Company-themed exhibit area, as well as an artifact restoration area.
The Early Ford V8 Club Central Illinois Regional Group is sponsoring the exhibit area in the new building. 
Every month, four different antique Ford vehicles will be displayed in the center of the exhibit area.
"All of these cars are owned by the members of the Ford V8 Club, and then they intend to incorporate members of other Ford clubs in the area to invite them to come in and have a vehicle on display for a month at a time," said Wheels O' Time Museum Marketing Manager Bobbie Rice. "These cars will rotate. It will change every month."
A 1931 Ford Model A is displayed in the southwestcorner of the exhibit area. Unlike the cars in the center of the exhibit area, it will stay in the building on a permanent basis. Visitors of the museum can sit in the 1931 Ford Model A. 
Several Ford Motor Company signs and artifacts are displayed throughout the exhibit area. A timeline that is displayed in the exhibit area allows visitor to learn about the history of the Ford Motor Company.
The new building provides additional space for museum volunteers to work on artifact restoration projects. 
"We can have more than one project going on now, which we couldn't before," said Rice. "We needed this space."
Currently, musuem volunteers are restoring a 1931 fire truck that has been at the museum for 25 years.
"It's down to the skeleton right now," said Rice. 
Vistors can watch volunteers restore the fire truck, every Friday.
Unlike the museum's other three buildings, the new building is climate-controlled.
Over 6,500 people visited the museum in 2012. Museum officials hope the new building will help increase attendance.
"We've added the car angle," said Rice. "People who like cars are going to come out."
In addition to antique cars, the Wheels O' Time Museum has several other attractions, including antique toy displays, antique fire engines, a miniature cirus, a full-size  train, antique music machines, antique airplanes, antquite tools, antique farm equipment and several other interactive exhibits.
"Everybody enjoys something different out here," said Rice. "A multi-generational family can come out and each one will find something that they enjoy."
Students from Chillicothe South Elementary School toured the museum last week.
"They've (students) liked it all," said Pody Goines, a teacher at South Elementary School. "There's a lot of hands on stuff. They get to push a lot of buttons and see how things work and just a lot of really good things for them to do. They got to sit on a fire truck and do the horn, so that was neat for them. They love looking at all the old cars. They love getting in all the train cars."
A tour guide helped the students understand the exhibits and displays in the museum, said Goines.  
"I think the tour guide has been wonderful," said Goines. "He's really given a lot of information about how things used to work a long time ago and trying to put that into the kids (prospective)."
The Wheels O' Time Museum is open Wednesday through Sunday, noon to 5 p.m. Every year, it opens for the season in May and closes for the season in October.