World Renowned Violin Soloist St. John in Local Concert
March 5, 2014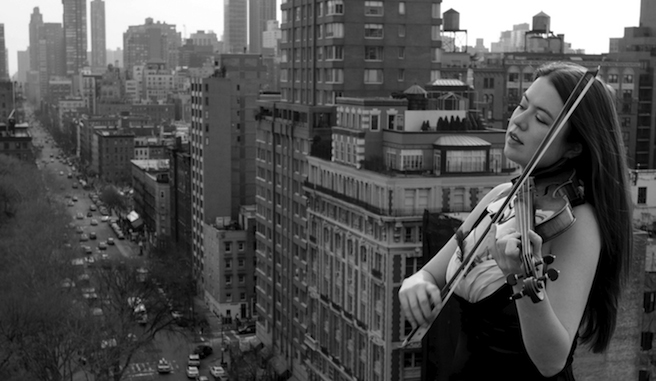 Photo by Twain Newhart.
The Heartland Festival Orchestra is offering a chance for locals to experience classical music through the help of an accomplished violinist and a live orchestra. It is hosting world-renowned solo violinist Lara St. John on March 22 at Five Points Washington in Washington.
St. John has been playing the violin since she was two, and she performed as a soloist in her first orchestra when she was four. She would later play with a wealth of orchestras across the world like Cleveland, Philadelphia, the Royal Philharmonic, Ensemble Orchestral de Paris, Queensland Orchestra and the Hong Kong Philharmonic among many others.
David Commanday, conductor and artistic director at Heartland, has worked with St. John in the past. He was immediately struck by her musical passion and her incredible virtuosity. 
"She's just something of an iconoclast," Commanday said. "She tends to break the cliché. She gives you the impression she's kind of making it up in the moment, [but] at the same time, it's a perfect performance." 
"These are qualities of spontaneity and expressing power that are just really special," he added. "She takes her craft and her playing very seriously but she doesn't take herself too serious."
St. John will not be the only musician present at the concert. There will also be a live orchestra.
There will be three pieces played over the course of the night: Carl Maria von Weber's "Oberon Overture", Felix Mendelssohn's "Violin Concerto in E Minor" and Mendelssohn's "Symphony No. 3." Commanday says the three pieces lie firmly in what some consider romantic classical music, which was composed primarily during the 19th century.
"The music is very expressive, it's very passionate, it can be atmospheric, it can be very exciting [and] it's not yet 20th century and full of dissonance. At the same time, it outstretched or passes beyond what we call [the] classical period, which has more to do with form and elegance."
"Mendelssohn's "Symphony No. 3" is a tour de force and virtuosic playing for the members of the orchestra," Commanday says. The piece was inspired by a trip Mendelssohn took to Scotland and his memory of Scottish musical themes, melodies and rhythms.
Von Weber has been described as a contemporary Beethoven and Commanday calls his work atmospheric and the "Oberon Overture" in particular as Midsummer Night's Dream" like. In this piece, there is a sense of the romance of the forest and also beautiful, fairy like music.
The concert will start at 7:30 p.m. Tickets are $30 for adults and $8 for children and students. They can be purchased at the door or through Five Points's website.
Heartland shares a portion of all its concerts' profits with a local charity. This event's revenue will go toward the Heart of Illinois Harvest, which delivers surplus food to food agencies to give away for free to those in need. 
Some of Heartland's other upcoming shows include a concert for operatic soprano Bárbara Padilla on April 26 and a May 31 concert featuring some of Beethoven's work like his Fourth Symphony in B-flat and his Fifth Symphony in C Minor.
For more information about Heartland's shows and its dress code, you can visit heartlandfestivalorchestra.org.
"Anyone of our concerts is meant to be a great musical and artistic journey for an hour and a half or two [hours] where you travel to new places and meet interesting people," Commanday said. "[You also have] interesting thoughts [and] interesting experiences in the music."