A weekend exclusively for the birds
May 8, 2014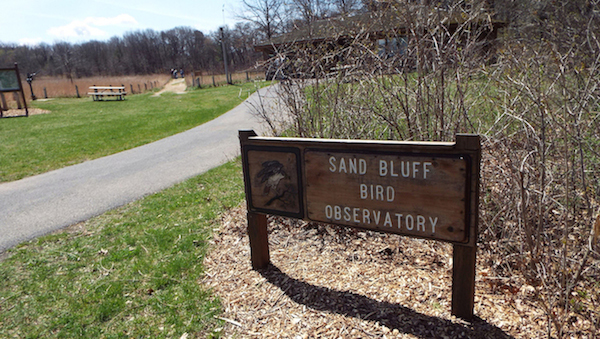 Entrance to Sand Bluff Observatory near Durand.  (News Bulletin photo)
Those seeking an affordable but special Mother's Day weekend activity may find what they're looking for in Sand Bluff Bird Observatory's 16th annual Birdfest.
Birdfest takes place from 8 a.m. to 4 p.m. on May 10 and from 8 a.m. to 3 p.m. on May 11 at 10602 Haas Road in Durand. 
The event costs $3 for adults or 50 cents for children 4 to 12 years old, and children 3 and younger are free. Birdfest will give patrons the opportunity to see and touch a wild bird, learn about the observatory's banding operation, participate in a silent auction and more.
Lynda Johnson, who has been a volunteer at Sand Bluff since 1980 and who is married to the man who started the observatory, said even though Birdfest is the only time they charge for admission, it is consistently one of their busiest days of the year.
"The reason we picked this date is we've found the date closest to the 11th or 12th of May is the best day to see the most variety of birds," Johnson said.
Sand Bluff is run completely on donations and volunteers, so Birdfest serves as the observatory's main fundraiser for the year.
Some of the attractions that patrons may not see during regular business hours are the silent auction, which will feature bird- and nature-related items and the proceeds from which will benefit the observatory, food tents, birds of prey on Saturday and a guest speaker, Matt Hayes, at noon on Sunday.
What Johnson hopes visitors will get out of attending Birdfest is an understanding of Sand Bluff's bird banding operation.
Sand Bluff is one of the largest small-bird banding operations in the country that is open to the public. It was created to study population trends in migrant birds, and in an average year, 4-6,000 small birds are temporarily caught in nets and banded. The data collected helps in understanding the status of birds both nationally and internationally.
"Because we've been doing it for so long and the nets are in the same places, we have a huge database of information about what has happened to these birds," Johnson said.
For example, Johnson said the neotropical bird population has dropped 10 to 20 percent of what it was in the 1960s when Sand Bluff first started. Conversely, some birds they band now they never used to see.
"We are seeing more birds who typically nested south of here and now nest in this area," Johnson said. "That we think has something to do with climate change."
Part of the operation is to understand why birds are disappearing. Johnson said there are a variety of reasons, including habitat loss as a result of land development, increased use of chemicals in lawns, stray cats and the disappearance of insects the birds rely on for food.
Whether interested in the banding operation or simply looking for an opportunity to see wild birds up close, Birdfest is one of the best opportunities to do so all year.
For more information on the Sand Bluff Bird Observatory, including directions and how to volunteer, visit www.sandbluff.org.
–Jessic Cabe