'Kind Campaign' combats girl-against-girl bullying
March 19, 2014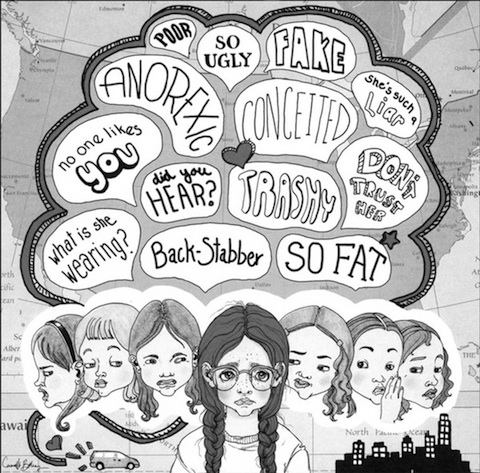 Illustration from a poster promoting the documentary 'Finding Kind' set to be shown on March 25 at Rock Valley College as part of activities observing Women's History Month.
Women's History Month is about more than celebrating women's accomplishments. March is also a time to explore the societal problems females still face.
That's why Jennifer Wheeler, the Student Life representative on the Women's History Month Committee at Rock Valley College, brought the idea of the "Kind Campaign" to the committee during a November planning meeting.
The Kind Campaign is a movement, documentary and school program that brings attention to the negative effects of "girl-against-girl crime," or bullying. The campaign was started by Lauren Parsekian and Molly Thompson in 2009 when they were students at Pepperdine University.
As part of Women's History Month, Rock Valley College will host a screening of the documentary, Finding Kind, at 2 p.m. on March 25 at the main campus's Student Center atrium and at 11 a.m. on March 26 in the Stenstrom Center Commons.
Wheeler said she first became aware of the Kind Campaign when she saw the documentary as a student. She was involved in greek life, and a fellow sorority hosted a screening of the documentary. She said it had a direct effect on her college campus and she wanted to bring the same influence to Rock Valley.
"As Rock Valley hosts students that are not always the traditional college age, finding something to show that would be able to connect to a wider audience was important," Wheeler said. "This documentary does that. Everyone is able to gain something from this documentary, and even if it does not effect them directly, they are able to share the message of kindness with younger sisters, nieces, cousins or even daughters."
The documentary draws attention to a problem that has always been around but that has recently been gaining more national attention: bullying. It specifically focuses on the ways girls bully each other in high school, middle school and even elementary school.
"These experiences of manipulation, secrets, rumors, etc. can often lead to depression, anxiety, drug and alcohol abuse or even suicide, which is detrimental to a society where it is already hard to grow up," Wheeler said.
According to www.dosomething.org, more than 3.2 million students are victims of bullying each year in the United States, and 90 percent of fourth through eighth graders report being victims of bullying. Finding Kind and the Kind Campaign aim to draw attention to the problem of bullying while honing in on the specific issues among young women.
Wheeler said she will be hosting an information table in the Student Center at Rock Valley with details about the Kind Campaign. She hopes this presence on campus will help draw more students to the event so that a discussion can follow the documentary screening.
The events are free and open to the public. For more information about the Kind Campaign, visit www.kindcampaign.org. For more Women's History Month events at Rock Valley College, visit www.rockvalleycollege.edu/Life/WomensHistoryMonth.cfm.
–By Jessica Cabe