NOT JUST 'USED' ART
May 14, 2014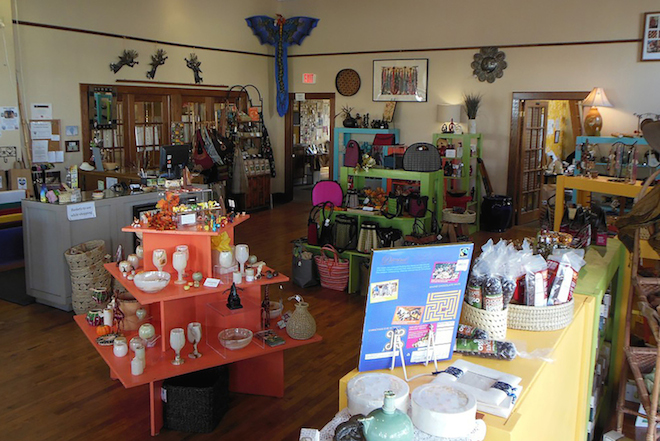 Interior space at JustGoods fair trade story on 7th St., home of this month's Used Art benefit sale.  (News Bulletin photo)
JustGoods sale benefits Rockford Urban Ministry and partners 
If your walls are looking a little bare, you don't have to shell out a lot of cash to spice up your decor.
JustGoods fair trade store, 201 7th St., is hosting its 7th annual Used Art Sale in the gallery section through the end of May. 
The sale features original oils, watercolors and found object pieces, as well as small postcards, prints and a large selection of art books. 
The sale is going on during regular store hours, 10 a.m. to 6 p.m. Monday through Saturday. Proceeds go to Rockford Urban Ministries and its partner projects.
Stanley Campbell, the director of Rockford Urban Ministries, said the idea for the art sale came about when the group was hosting a garage sale fundraiser.
"One day, a whole bunch of art came in," Campbell said. "So instead of calling it a garage sale, someone came up with calling it a used art sale."
The sale mainly consists of prints, framed items, oils, watercolors, pastels and art books. Prices are $10 for large framed prints, $5 for smaller framed prints and $3 for unframed prints. Art books are $1 each.
Campbell said there are a handful of larger items for sale, but nothing is priced above $25.
In the past, Campbell said the sale raises about $300 to $500 for Rockford Urban Ministries. He said it's not one of their biggest sellers, but the extra money always goes to good use. Some years, they use it to fund special projects, but this year the proceeds will go toward general expenses like utilities or maintenance and repair.
"For us, that really does help," he said.
Rockford Urban Ministries is a United Methodist outreach organization in the Rockford area, working with 20 churches on primarily urban development projects. The group turned an old liquor store into JustGoods, a fair trade gift shop that runs on volunteers.
All the items sold in the JustGoods store are certified fair trade. This means the items come from mission groups all around the world, and they were produced in a way that does not harm the environment by people who are paid a fair wage for their work. 
The art for the Used Art Sale has been donated by local artists and craftspeople, as well as supporters of Rockford Urban Ministries. The prices are even lower than usual this year because of the amount of art that has been donated.
"We might expand it for another month if we don't sell everything," Campbell said.
For more information on the Used Art Sale or JustGoods, visit www.justgoods.info. For more information on Rockford Urban Ministries, visit www.rockfordurbanmin.org.
–Jessica Cabe