Secret Rockford
January 29, 2014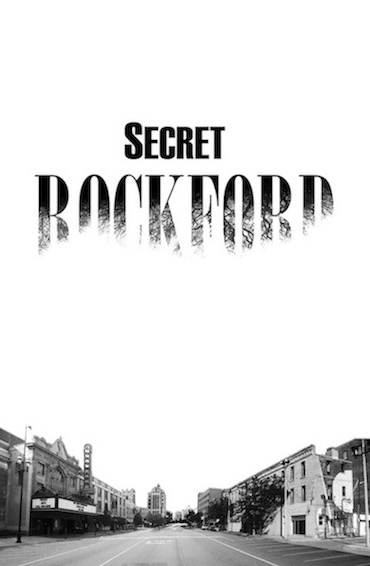 Cover illustration courtesy of Michael Kleen, Black Oak Media
New book highlights city's untold tales, oddities
A few of Rockford's secrets are about to be revealed.
"Secret Rockford," an anthology of 18 articles and short stories written by and for Rockfordians, will hit stores and online retailers on Feb. 1.
The idea of the book came from Michael Kleen, a publisher at Black Oak Media. After unsuccessfully running for mayor of Rockford in the spring and becoming more invested in local media, he felt mainstream news outlets were neglecting investigative reporting. He wanted to come up with a way to tell local stories that are often overlooked or forgotten. 
"I hadn't been in politics for very long around here, and it really opened my eyes to a lot of things," Kleen said. "I wanted to bring issues to light that weren't being discussed."
So Kleen created a Facebook page and asked members of the community to submit stories about Rockford — fiction and nonfiction, recent or stretching back into the city's history. Contributors come from all walks of life; from teachers to journalists to ordinary people being published for the first time, a wide variety of perspectives are represented in "Secret Rockford."
One of the contributors, Ernie Fuhr, is a social studies teacher at Roosevelt Alternative High School. Fuhr has two stories appearing in "Secret Rockford." 
One attempts to unravel the mystery behind a 1930s mural that may or may not have had Communist undertones. The other is a creative retelling of a Santa skydiving incident that happened at North Towne Mall in 1965.
"It sort of lit a fire under me, creatively," Fuhr said. "That's why I like 'Secret Rockford;' it's an opportunity to get published, other than letters to editors over the years."
Jim Phelps, who owns Phoenix Traders on 7th Street, wrote the foreword to "Secret Rockford" and helped Kleen develop the idea for the book. He said one of the benefits of reading the anthology is getting a variety of perspectives on local stories, as well as developing a basis for improving the city.
"These writers really know the community inside and out politically, socially and culturally," Phelps said. "There's a lot of interest in transforming Rockford and the community, but how do you do it without the full story? How do you have a good self-examination if you don't have all the facts?"
Kleen narrowed the submissions down to 18 stories with one key goal in mind: balance. One of the stories is told by a pro-life activist, another by a nuclear plant protestor.
"I wanted articles that showed a lot of different ways of looking at Rockford," Kleen said.
Kleen said community members have already expressed interest in a second volume of "Secret Rockford." He's open to the idea, but he said he wants to wait for responses to volume 1.
"Secret Rockford" will be available to order online at amazon.com and barnesandnoble.com. Customers can purchase the physical copy or buy it as an e-book for Nook or Kindle. The book will also be available at Phoenix Traders, 215 7th St., and Toad Hall, 2106 Broadway. 
For more information, visit www.secretrockford.com.
—Article by Jessica Cabe, a Rockford area native and Northern Illinois University graduate now studying at Syracuse Univesity.