Updated equipment helps downtown Rockford Art Deli keep up with demand
February 12, 2014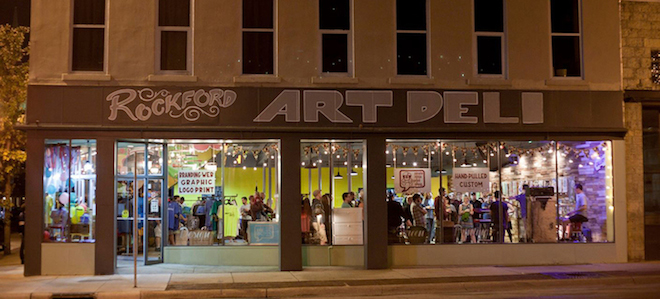 Street view of the Rockford Art Deli on East State St. (Rockford Art Deli photo).
Business appears to be booming at the locally-owned Rockford Art Deli.
The State Street storefront business, which specializes in screen printing and Rockford-themed apparel, now has updated equipment to help keep up with increasing demand.
"We've actually needed to upgrade since a few years ago," said R.A.D co-owner Jarrod Hennis.  "We just couldn't keep up and get our boutique stocked fully."
R.A.D., 402 E. State St., offers screen printing for T-shirts, graphic design, Web design, marketing and more. 
The business also serves as a boutique for Rockford-themed apparel created in-house, like T-shirts that say "Everyone loves a Rockford girl" or "Rockfordians do it better."
For Hennis, who co-owns the company with his girlfriend, Britney Lindgren, R.A.D.'s new screen printing equipment has been on his wish list for years.
The new 10-color, eight-station press is replacing the old six-color, four-station press they used to work off of. Because production will be so much faster, Hennis said they're thinking of adding at least one more employee because now two people can be printing at once.
They also traded in their old press for a brand new four-color press and exposure unit that works about five times faster than the old one and holds higher detail.
This basically means the screen printers at R.A.D. will be able to produce higher-quality, more vibrant shirts faster than they ever have before.
Because of this improved production process, Hennis said R.A.D.'s T-shirts will soon be available to order online. He said they also plan to host screen printing classes, expand the kinds of materials they're able to print on and start using water-based ink to be as environmentally friendly as possible.
Although screen printing accounts for most of the business's income, R.A.D. is much more than a place to go when you need some T-shirts made.
"One of our big points and goals is community," Hennis said. "Downtown Rockford is kind of up and coming, but it's kind of been a shadow in Rockford for a while." He said he wants to use his business to positively impact the area.
One way R.A.D. accomplishes that is by hosting live musical performances, usually in conjunction with an art show.
Christiaan Letsinger, a nursing student at Saint Anthony College of Nursing, has been taking part in performances at R.A.D. since 2011, when the business was located on the third floor of the building rather than the first.
"My first experience with performances there started when they would host their elevator shaft shows," Letsinger said. "They have an old freight elevator for shipment that sits about 3 feet above the sidewalk, and artists or DJs would cram in the elevator and perform for people on the street and sidewalk."
Now, R.A.D. has an intimate space by a floor-to-ceiling window dedicated to hosting musical guests.
Hennis said he is open to almost anything when it comes to hosting events that will bring a sense of community to downtown Rockford. He said the business has hosted coffee socials, book signings and other events, and he hopes to continue expanding R.A.D.'s role in the area.
—Article by Jessica Cabe, a Rockford area native and Northern Illinois University graduate now studying at Syracuse University.