Christian Relief Group Returns to Washington
January 8, 2014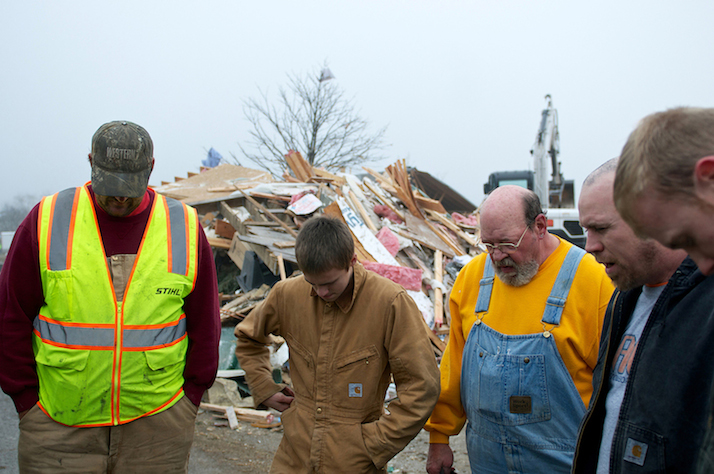 Members of the FCFI offer a brief prayer before beginning their work helping to clear the debris in Washington.  Photo by Tim Alexander.
LEXINGTON, Ill. – A central Illinois Christian relief organization that has responded to natural disasters in the Gulf Coast and the Philippines is focusing its mission of charity closer to home, helping victims of tornado-ravaged Washington to clear their properties of wreckage as they prepare to rebuild their homes and lives.
Dennis Schlagel, executive director of Lexington, Illinois-based Fellowship of Christian Farmers, International (FCFI), said though the group has already cleared wreckage from 75 properties, much work remains before all of the 1,082 structures destroyed by the November 17, 2013 EF-4 tornado in Washington are cleared away.
In the early, chaotic days following the tornado, access to Washington was greatly restricted. FCFI volunteers spent most of the first few days helping salvage items from the wreckage of board member and farmer Joe Bachman of Roanoke, among others. Their relief trailer was located six miles north of Roanoke at the farm of Tom Fitschen. 
Returning in January, their plan is to bring reinforcements and stay until the job is completed. 
Schlagel said, "It's a great tradition in agriculture (to come to the aid of others) and a profound and biblical way to live. The Golden Rule is to love thy neighbor as thyself."