Davidson Barn Featured at Historical Society May Meeting
April 30, 2014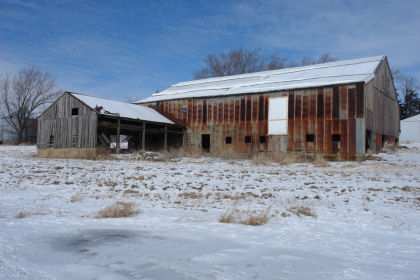 News Bulletin photo.
EUREKA – The May 8 meeting of the Woodford County Historical Society will feature an overview of the Davidson Barn Project. Steve Colburn, president of Barnstorming, Inc., will explain the history of the barn, its present state and the plans for its future. The meeting will be held at 7:00 PM in the Parish Hall of Eureka Christian Church. The meeting is free and open to the public. 
The barn was built in about 1838 by Caleb Davidson and was used for many community gatherings, including the earliest meetings of the Eureka Christian Church. It is constructed without the use of nails and from white oak trees growing on the farm. The 176 year old structure is in need of preservation, which is the chief goal of Barnstorming, Inc.
Future events concerning the barn include a Saturday tour of the site on June 14. The tour will be preceded by an informational meeting at the Parish Hall of Eureka Christian Church at 1:00 PM.
The Woodford County Historical Society maintains a genealogical collection and mini-museum at its headquarters, 112 N. Main in Eureka, and is open for visits from 1:00 – 4:00 PM on Wednesdays and Fridays.
For more information, call Karen Fyke at 309-467-4525 or cell 309-360-6772 or Barbara Bradle at 309-467-3106.