Dr. Phelan Has No Regrets
March 19, 2014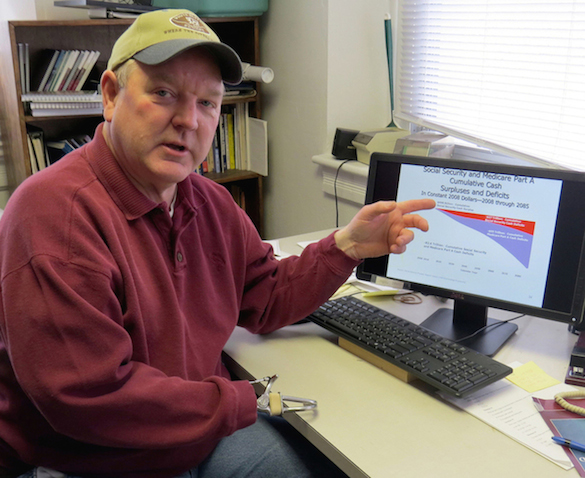 Professor Wesley Phelan points to a government chart that shows $27 trillion in unfunded liability in Social Security and $82 trillion in unfunded liability in Medicare, which tells him the government is not going to be able to meet its fiscal obligations to retired people.  Photo by Jerry McDowell.
Professor Phelan – Chose EC Over Law School
EUREKA – Wesley Phelan was ironing a shirt in his basement in Glenville, W. Va., when he got a call from Eureka College 23 years ago.
The Arkansas native had been teaching political science at Glenville State College and applied for law school while also sending out a few job applications.
"Gary Gammon called me one night," Phelan (pronounced FEE-lan) said. "He wanted to bring me to Eureka College for an interview. I told him that I had been admitted to Vanderbilt Law School and we had made our plans to go to Nashville and he said he wanted to bring me anyway."
He remembers having a terrible cold and everyone wanting to talk to him for two solid days. Among the things that got his attention was the topic of tennis. Phelan proudly displays his Arkansas State Champion tennis plaques on the wall of his crowded office in Burgess Hall.
"He told me they needed a tennis coach," he said. "One of my dreams had always been to coach college tennis."
His accomplishments in tennis are despite being a congenital amputee – being born with only one hand. 
"I'm too old now and I have a sprained ankle, but when I was 35 or 36 years old, I could really cover the court."
He and his wife Sharon, former pharmacist at CVS in Eureka, returned home to West Virginia and discussed what to do.
"My wife and I talked it over," Phelan said. "We thought about our kids who were 5 and 3 years old at that time and what it would be like for them if she was working fulltime in Nashville and I was going to law school fulltime – we would have strangers raising our children.
"We decided that it would be horrible for our kids for us to go to Nashville."
Phelan began teaching political science at Eureka College the 1991-92 school year.
"I have to say I couldn't have made a better choice for my family," he said. "In terms of my career I probably didn't make the best choice. In terms of everything considered, I made the best choice and I have to just be so grateful to the people of Eureka. The community; all the activities that are here for kids and the quality of the school district."
Their oldest son Nathaniel is now out of medical school in his next to last year of residency in Austin, Texas. Youngest son Aaron has one more year of medical school in Springfield, IL.
Phelan sometimes wonders what it would have been like practicing law.
"I guess I filled that void by helping Eureka College students get into law school," he said. "Since I've been here probably 25 to 30 Eureka College students have gone on to law school and I've been instrumental in most of their preparation.  At least somebody is going to go out there and practice law."
"I always said I spent more time raising everybody else's kids than I did my own because teaching takes a lot of time, but this was such a good nurturing community that whatever void I left was filled in by the community. I'm really grateful for that."
 Born in Pocahontas, Ark., in 1954, Phelan grew up in Corning, Ark., and received his bachelor's and master's degrees in political science from Arkansas State University.
He attended graduate school at Claremont Graduate School in Claremont, Calif.  He has been studying government debt since the late 1970s as his dissertation was on Revolutionary War debt.
Hearing him discuss today's federal and Illinois government debt can send chills up one's spine.
"What I'm saying is, is that the federal government is in a situation that I do not think it can get out of," Phelan said, citing deficit spending and unfunded liabilities in Social Security and Medicare. "I think essentially, it's bankrupt."  He believes it will ultimately lead to hyperinflation.
While his beliefs echo those of today's conservatives, he describes himself as a classical liberal. 
"John Locke's second Treatise of Government speaks to me." he said. "Of course it's the foundation for the Declaration of Independence. Abraham Lincoln said he never had a political sentiment that did not flow out of the Declaration of Independence.
"I don't think that the government is there to provide all our needs. I believe in the limited government that the founding fathers believed in. I don't believe in that progressive government that is there to make everybody's life perfect because a government that's big enough to do that is big enough to take those rights way and that's what worries me. Big government scares me because big government almost invariably becomes tyrannical."