Eureka Lake Experiences Fish Kill Due to Cold Weather
April 2, 2014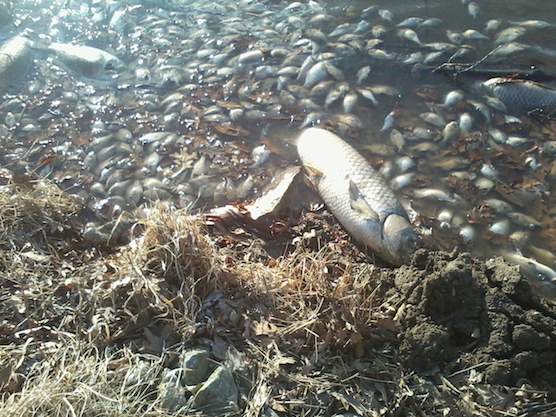 EUREKA – Melissa Brown, Eureka City Administrator, was deluged by phone calls asking why all the fish were dying in Eureka Lake. It seems that they were not deliberately killed, but rather died because of a lack of dissolved oxygen in the lake following the rough winter we have just experienced. Photo by Melissa Brown.
EUREKA – On Tuesday, March 25, Eureka City Administrator Melissa Brown received confirmation from DNR District Biologist, Wayne Herndon, that the fish kill at Eureka Lake was due to a lack of dissolved oxygen in the lake following a long, cold winter. Herndon said, "I have worked on the Eureka fish population for 35 years and have never experienced winter conditions as severe as this year. There are many fish kills reported from many lakes and ponds throughout Illinois. Most of these fish kills resulted from limited dissolved oxygen levels. This was due to the length of time that ice was on the lake, and, also the length of time that snow-cover regulated the amount of oxygen being produced by phytoplankton.
The City of Eureka lowered the lake in late 2013 to allow for needed repairs at the boat launch and dock. This occurrence did not play a role in the recent fish kill. "I concurred with a drawdown from the end of September until November when the lake was to be recharged by the watershed, "said Herndon.  
In the days to come, Mr. Herndon has recommended that the dead fish be allowed to decompose naturally at the lake.  He indicated that the process should not take long as the temperature rises. The DNR will work with the City in rebuilding the fish population. This process may require a fishing ban to allow for at least one spawning cycle once the lake has been restocked. The timeline of this measure will depend upon availability of root stock from the Jake Wolf Fish Hatchery in Manito. "We are anxious to rebuild the  fish population at Eureka Lake and we will continue to work closely with Wayne and the DNR to ensure that this goal is met as quickly as possible," said Eureka Mayor Scott Punke. 
The City of Eureka will update its website (www.eurekaillinois.net) with any additional information as it becomes available.
Any questions or concerns can be directed to City Administrator Melissa Brown at 309-467-2113 or melissa@eurekaillinois.net.