GONE FISHIN'
May 14, 2014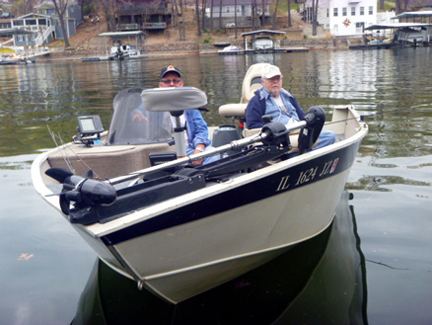 Photo by Jerry McDowell.
Making New Friends – What It's All About
LAURIE, MO. – No one thought I would make it to our week-long biannual fishing trip to Lake of the Ozarks set for April 25.
A little more than a month before the much anticipated jaunt with my brother Jimmy, cousins Freddie and Jeff and friends, my COPD emphysema began acting up again. My doctor told me to increase my prednisone to 20 mg. until my visit with him the following Thursday.
By the next Monday my breathing had worsened to the point that I recall sitting on the edge of my bed wearing my CPAP, as it aided my breathing. My wife Suzanne came into the bedroom, and I told her to call an ambulance.
My only memories for a week after that are vivid dreams, as I was on a ventilator with a feeding tube as a large group of family and friends feared the end was near.
I recall a recurring dream that I was in a hospital that was floating on the Illinois River – docked somewhere north of and on the opposite side of Henry.
I shocked everyone by coming to a week later. The nurses were quick to ask me questions like "Do you know where you are?" or "What year is it?" or "Who is the president?" or "What is your name?"
I was groggy and didn't realize it at the time, but apparently they were testing to see if I had suffered brain damage. I was still docked on the Illinois River, though I didn't share that with them, but I quickly became annoyed with their questioning the more conscious I became.
For example, how am I supposed to know where I am? There are many vivid recollections of that second week in the hospital, including me pulling out my own feeding tube, but I'll skip to me getting well enough  to be transferred to Advocate Eureka Hospital for my final week of recuperation.
The terrific staff there got me up on my feet and on my way to looking forward to April 25.
I got out of the hospital April 19 with an appointment with Dr. Mark Mroczko (Mor-OZ-ko) on April 24 to hopefully get released to head for the lake.
While waiting for that appointment, I had visits from a home health nurse, a pulmonary therapist and a physical therapist who all had plans to make their visits more regular if I wasn't released to go to the lake. All three thought I was doing surprisingly well for what I had been through and the therapists gave me some exercises I could do at the lake if I made it there. I was nervous as Suzanne drove me to my April 24 appointment, but I got my sought-after release with a proviso to take it easy at the lake.
I had already begun packing the car, and Dave Crenshaw, Suzanne's boss at Healthy Arts Physical Therapy, came over that Thursday night to help load the heavy suitcase. I was up the next morning at 4 and on the highway at 5:50 to meet Jimmy, Freddie and friend Dave at the Springfield rest stop to caravan to Laurie.
On previous trips I used to have to haul about 10 oxygen tanks in the back of my SUV, imagining the conflagration that would occur if someone rear-ended my vehicle. Lincare, my current oxygen provider, has facilities all over the country, including Osage Beach, Mo., at Lake of the Ozarks. With one phone call and an order from my pulmonologist, I can have a concentrator and extra tanks delivered to my motel and waiting for me when I arrive.
My usual routine is to go crappie fishing with the boys in the morning and catfish off the dock later in the day. The lake was rough and it was windy and chilly, so I went crappie fishing with Freddie only twice on this trip. I caught a few, including one 11 ½-inch fat crappie.
The rest of the boys fish only for crappie, except for Don Kramer who fillets what he calls bags of "exotics." They bring down a chest freezer and put it in the Lake House Motel, filet the crappie on the dock, then freeze bags of filets in sandwich bags.
They had to work hard to reach their 15-crappie limit (they have to be 9 inches to keep them) but the ones who hit the jigs were generally large and thick. By the time I headed home on Saturday, May 3, the freezer was filled with bags of frozen crappie filets. On Friday morning, May 2, I did manage to catch an 8-pound catfish.
But I spent most of my time on this trip taking extra naps at the motel and getting to know the local folks. I developed special friendships with Gregg Peterson, Clint Camp and Mike, a retired phone company worker. I would meet them at 6 a.m. at Val's restaurant in Laurie, having coffee as I waited for the rest of my fishing buddies to arrive about 7 or 7:30.
Gregg shared a story about Mike that he would be down in a manhole working for the phone company and when Harry Truman would take his walks, Truman would tap on the manhole cover and make sure he was OK down there. Mike was embarrassed about that story, and I'm not sure why.
Clint has a leather shop in nearby Sunrise Beach, and I had him make an embossed checkbook cover for Suzanne's souvenir from the lake. A couple days later I visited his shop (Sunrise Custom Leather). He made me a fantastic holster, and I also purchased a leather purse for Suzanne.
Clint, Gregg and I now exchange emails.
Weighing on my mind the entire trip was by buddy Darren Evans, chief deputy at the Woodford County Sheriff's Department. I had scheduled a haircut after my appointment with Dr. Mroczko and noticed on the barber's bulletin board that there was a benefit to be held for Darren on May 3, the day I was due back from the lake. Having no idea that he had been diagnosed with lung cancer in March, I was stunned.
Luckily, I got back in five hours and 20 minutes, enough time to take a nap and make it to Darren's benefit. Since Suzanne and I are downsizing and moving to a duplex in Goodfield, we are giving away a lot of our belongings. I have an overwhelming amount of wall art that I have either purchased or photographed. I donated two Nagel prints to the auction and decided to purchase them back for $100.
Interestingly, I met a friend at the auction, Patrick from Morton, who realized the unusual value of the Nagel prints, and purchased them from me for the $100. The donation went to Darren's family for out-of-pocket expenses that are expected to eventually become substantial. (Jeff Schrock donated a set of tires that were auctioned for $900!)
I remember before all this saying that I could stay home and suck oxygen and watch Wheel of Fortune all week, but what's the point?
I got out of my comfort zone and am stronger for it. While I am financially poorer, my life is richer and I have several new friends.
Isn't that what it's all about?