Historical Society Presents Civil War Dance Demonstration
March 5, 2014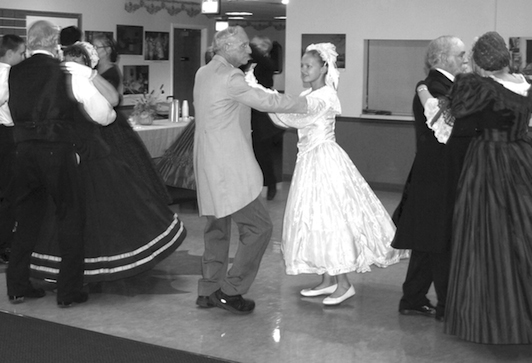 EUREKA – Young and old alike enjoy Civil War era dancing as demonstrated by the Metamora Courthouse  Civil War Dancers in 2012. The center couple are Larry Hachmann and his granddaughter, Madena Garber.  News Bulletin photo.
EUREKA – The Metamora Courthouse Civil War Dancers will dance at the Maple Lawn Memorial Hall at 7:00 PM, March 13. The event is the first of the monthly meetings in 2014 for the Woodford County Historical Society and is free; the public is welcome.
The Maple Lawn Memorial Hall is to the west of Route 117 just north of Eureka. Turn at the lighted Maple Lawn sign and drive one block. The parking lot and double doors of the room are on your left.
The Metamora Courthouse Civil War Dancers is an authentically costumed, period re-enactment dance group sponsored by the Metamora Courthouse State Historic Site that provides educational and entertainment programs to schools, churches, museums and events around central Illinois. For more information on the group, call (309) 367-4470 or email metcourt@mtco.com.
The Woodford County Historical Society meets monthly, March through December, in different locations in the county. Vitally interested in preserving the past for future generations, the Society maintains a genealogical collection and mini-museum at its headquarters, 112 N. Main in Eureka, and is open for visits from 1:00 – 4:00 PM on Wednesday and Fridays.
For more information, call Karen Fyke at 309-467-4525 or cell 309-360-6772 or Barbara Bradle at 309-467-3106.