MUSIC IN MINONK
April 23, 2014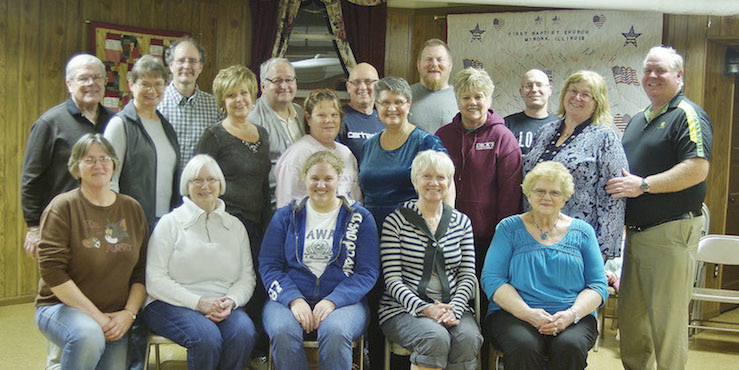 Photo by VillageAires
MINONK –  Good sounds are floating in the almost-spring air from the Baptist Church basement in Minonk, as the Minonk Village Aires prepare for their Spring Concert, Saturday and Sunday, May 3 – 4, at St. Paul's United Church of Christ. The concert on May 3 is at 7:00 PM.
Presenting a variety of spiritual, folk, old favorites, and pop songs of today and yesterday, under
the title "There's Something in a Name", the program promises good entertainment and great singing by the chorus, directed and accompanied by Elaine Cunningham.
The chorus consists of singers from Minonk and surrounding communities. This year the members are sopranos Jean Keck, Lynn Manning, Patsy May,Shirley Missey,Nancy Redenius, Katelyn Stities; altos Shelly Butler, Donna Leonard, Marylu Pille, and Janet Redenius; tenors Dick Leonard, Russ McCulley, and Aaron Palmore, and basses, Jerry Keck, Jerry Welch, Don Oesch, and Rich Redenius.