CASA Volunteers Needed
April 16, 2014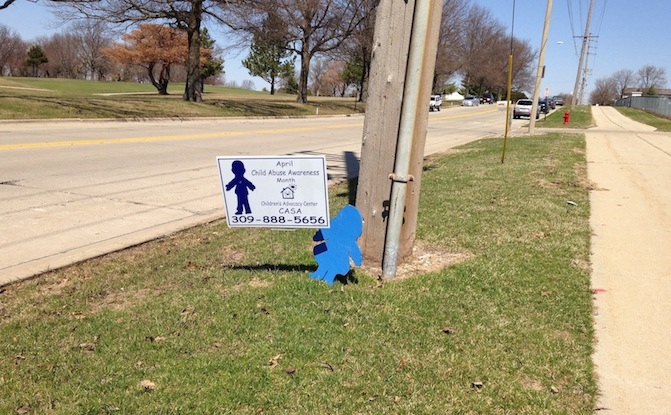 Photo by Ryan Martin.
April is Child Abuse Awareness Month and CASA (Court Appointed Special Advocates) is looking for volunteers in Peoria and McLean County.
CASA is a nonprofit organization that advocates for the best interests of abused and neglected children. CASA volunteers work with both the children and court system to provide reports that help judges make the best possible decisions for the children's futures.
"Having a CASA volunteer is a great advantage for children," Pamela Perilles, CASA of Peoria County Executive Director, said. "They're there for the children to advocate for their needs and to make sure that nothing is getting lost in the system."
In Peoria County alone there are over 1000 pending child abuse cases. In 2013 CASA of Peoria County served 203 children, but are looking to continue to help even more children this year.
The importance of children having a CASA volunteer support them can not be overstated. 
"Research shows that when a child is appointed a CASA volunteer they spend around 8 months less in the system," Perilles said. "8 months is a long time when you're young. All kids want the security of knowing that they have a permanent home, so they don't have to worry about where they're going to be moved next."
CASA volunteers serve one child at a time, so they are able to get to know the children on a more personal level. This personal connection allows the children to be more open than they may be with a public defender or judge. 
"It's really empowering to a child when they realize that their advocate is a volunteer and that they're helping them because they truly care," Perilles said. 
Though becoming a CASA volunteer requires a lot of work and a large commitment, it can be extremely rewarding.
"You can make a huge difference in the life of a child," Perilles said. "You're helping cultivate better citizens, and helping break devastating cycles within the community."
CASA volunteers are asked to commit to being a volunteer for at least two years. It takes about five to ten hours of work, including at least one face-to-face meeting with the child, each month. 
No legal background is needed to become a CASA volunteer.
"You don't have to have any knowledge of the court system or legal system to be a great advocate," Perilles said. "We train you in what you need to know and our volunteer supervisors help you along the way, teaching you how to do it."
CASA volunteers are required to go through a 30-hour course where they will be taught much of what they'll need to know as advocates. 
Those who are interested in becoming a CASA volunteer should contact their local CASA office for more information. The number for Peoria Counties office is 309-669-2939. The number for McLean Counties office is 309-888-5656.
If you are interested in supporting CASA's cause but don't have the time to become a volunteer, donations are always more than welcome. You can donate directly through CASA of Peoria's website at http://www.casapeoria.org or by phone. To donate to CASA of McLean County you can call them at the above number as well.