Concealed Carry Law Comes to Illinois
March 5, 2014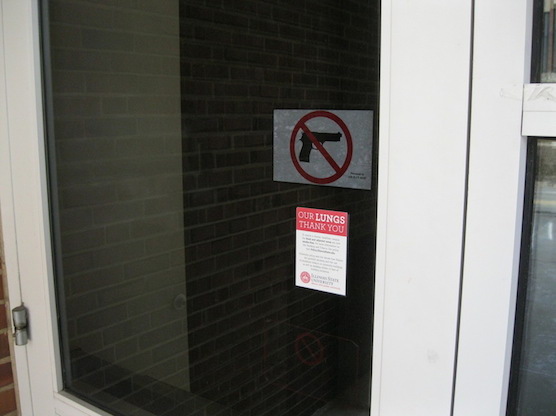 Photo by Ryan Martin.
After becoming the final state to pass a law allowing concealed carry, Illinoisans will soon be getting their permits. 
On February 26th, Illinois State Police announced that the first concealed carry permits would be issued this week, earlier than previously expected. 
January was the first month in which residents of Illinois could apply for the new permits, with over 16,000 people filing the paper work in January alone. State officials believe that as many as 400,000 people will apply for the concealed carry permit this year. 
Those applying must be at least 21 years of age, have a valid FOID (Firearm Owners Identification) card, and must have successfully completed 16 hours of firearms training. The applicant must also have not been convicted of two or more driving under the influence violations in the past five years, and must not have been in residential or court-ordered treatment for alcoholism, alcohol detoxification, or drug treatment within the last five years. 
After applying for the Concealed Carry permit, which cost $150 for 5 years, the Illinois State Police have 90 days to either issue or deny the applicants permit. 
After the applicant applies for the permit, local police departments have a 30-day window in which they can object to the issuing of the permit to the individual. 
"The state has set up a website for us, where we can go in and look who has applied for the permits in our area." Captain Mark J. Greskoviak of the Peoria County Sheriff's Office said. "We are able to object to someone's permit with the proper rationale. There's some stuff that the state may not catch on a general criminal history, that we do."
With the new law comes new difficulties for local police departments. The wording of certain parts of the law are causing concerns as to how local police departments will deal with them. 
"I can tell you right now this concealed carry law is going to be like every other law that's implemented by the state, except this one will be even more complex than others because there are so many broad statements in it." Captain Greskoviak said. 
There are many places, such as schools, sport stadiums, civic centers, medical facilities, and criminal institutions, where people are not allowed to carry a concealed weapon, but there are exceptions to the rule in some cases which are causing questions among people. 
"You can't carry a concealed gun in public parks, that is unless you're on a bike path or a walking path." Captain Greskoviak said. "It's exceptions to the rule like that, that give law enforcement headaches. There will be growing pains as far as what we're going to prosecute, and what we're not going to prosecute."
Businesses themselves have the right to either allow or ban people from bringing concealed weapons on their property. Businesses banning weapons must post a 4×6 inch sign of a handgun crossed out in red at points of interest. 
Captain Greskoviak says the general rule of thumb people should follow is that any building owned or payed for by tax payers does not allow concealed carry.  
"If anybody has any questions regarding the new concealed carry law, they should feel free to contact their local law enforcement, or sheriffs office." Captain Greskoviak said. "It's important people get the correct answers to any questions they have."
This Wednesday, March 5th from 5:30 to 6:30 pm the Bloomington Chief of Police will be answering questions on, and giving a talk on the new concealed carry law in the Bloomington Police Departments Osborn Room, located at 305 South East Street. 
For specific questions regarding the new concealed carry law, you can call the Bloomington Police Department at 309-434-2700. The Normal Police Department can be reached at 309-454-9535, and The Peoria County Police Department can be reached at 309-673-4521. 
The Illinois State Police will also answer any questions regarding the concealed carry law by phone at 217-782-7980. They also offer answers to frequently asked questions on their website at  https://ccl4illinois.com/ccw/Public/ISPFaq.aspx.