Easter Seals of Normal and Peoria Host Parades
March 12, 2014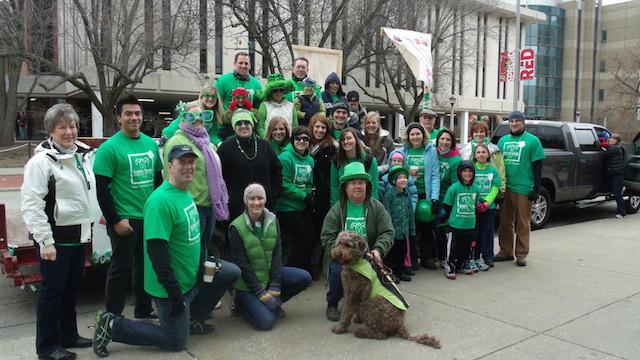 Photo Courtesy of Easter Seals.
As is St. Patrick's Day tradition, both Normal and Peoria will be hosting St. Patrick's Day Parades. 
The St. Patrick's Society of Peoria will be sponsoring the 33rd Annual St. Patrick's Day Parade on Monday, March 17th in Downtown Peoria. The parade will start at 11 am at the corner of Monroe and Hancock Street.
In Uptown Normal the 4th annual Sharin' of the Green St. Patrick's Day Parade will be held on Saturday, March 15th at 1 pm. The parade is sponsored by the McLean County Irish Heritage Society, WJBC, and Easter Seals. 
In addition to honoring Irish heritage, the parade serves as an important fundraiser for Easter Seals. Easter Seals have been the beneficiaries of the parade, raising around $3,000 each year. 
The parade will be headed by a giant Irish flag that people can toss donations for Easter Seals into. Prior to the parade, volunteers from Easter Seals will also be walking around selling parade t-shirts for $10 a piece, with all the money going towards Easter Seals. 
The parade is free to enter, but those who enter are encouraged to donate to Easter Seals. The money donated will go to help Easter Seals provide services for children throughout the community. 
"99 cents out of every dollar we raise stays right here in Central Illinois," Carly Wilson, Senior Development Associate for Easter Seals Peoria-Bloomington, said. "The funds go towards helping the kids in our community get the services they need."
Easter Seals provides a variety of important services for children in Central Illinois. 
"We provide pediatric services, so we primarily serve children from birth to age 18," Wilson said. "Those services include physical therapy, occupational therapy, developmental therapy, speech therapy, and feeding therapy for children with disabilities. We also have a camp on Lake Bloomington in Hudson Illinois, which is an all inclusive and fully accessible camp for children and adults with disabilities."
The pediatric therapy center services around 2,000 children a year and the camp on Lake Bloomington serves around 3,500 campers a year. 
"The parade is important to Easter Seals not only for the money it raises, but also for the awareness it raises for the services we provide," Wilson said. "Just letting people know that we are here is important. If people are having questions about their child's development they can give us a call and we'd be more than happy to help their family with any questions they have."
The parade comes not long after Easter Seals Central Illinois held it's 39th annual telethon in East Peoria. The telethon was broadcast live on WMBD-31 and generated a record breaking $2,439,743. 
"The Easter Seals Telethon has become a celebration of the year-round giving that makes Easter Seals programs and services possible.  This is a remarkable outcome for some pretty special kids." Steve Thompson, Easter Seals CEO, said of the event.
Though it's still a few months away, it's never too early to begin signing up for Easter Seals annual Walk with Me event being held at the Corn Crib in Normal this July 19th. Those looking to sign up can visit www.easterseals.com for more details. 
People can enter either a float, group, band, or family into the Uptown Normal parade by visiting wjbc.com or by emailing wjbcnews@gmail.com. The deadline for registration is March 12th.
To enter the Peoria St. Patrick's Day Parade you can visit www.stpatpeoria.com or call 309-681-0262 for more information.