Feds bust computer tech services scam ring in Southern Illinois
By Bill Dwyer For Chronicle Media —

November 17, 2017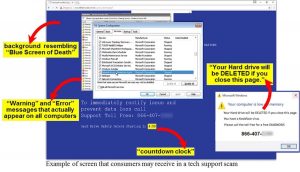 Federal prosecutors in southern Illinois on Thursday, Nov. 16  announced indictments against six participants in a wide ranging computer tech support scam that victimized dozens of Illinois residents and raked in more than $25 million. 
A total of 14 people have been indicted in the computer pop-up scheme headquartered in Boyton Beach, Fla., that allegedly defrauded more than 40,000 people over the past four years.  
Prosecutors say "at least 57" of the scam's victims live within the Southern District of Illinois, including multiple residents of St. Clair and Madison Counties. 
Those indicted Thursday include five Florida residents: Cory Steven Bachman, 25, of Boynton Beach, Tatum Elyse Espenshade, 26, of West Palm Beach, Robert Thomas McCart, 32, of Boynton Beach, Jonathan Matthew Richardson, 27, of Lake Worth, Grant Clark Wasik, 35, of Boynton Beach and Timothy James Miller, II, 27, of Schwenksville, PA.  
Seven of the eight individuals previously charged last spring have pleaded guilty and are awaiting sentencing. Under the federal SCAMS Act, they face up to 30 years in prison and a $250,000 fine.  
From November 2013, through at least June 29, 2016, prosecutors say, employees and management of Client Care/First Choice of Boyton Beach used messages that popped up on and froze computers screens throughout the United States and Canada. The box on the frozen screen warned that the user's hard drive would be deleted if they closed the page. There was also a "count down clock" warning that the "Hard drive Safety" would occur within minutes if the user didn't call the number on the screen.
Many concerned computer users who called that number were then talked into buying unneeded services, including anti-virus software and purported computer "repair."   
Besides Illinois and the other 49 U.S. states, the scam victimized computer users in Puerto Rico, several U.S. territories, all 10 Canadian provinces, the United Kingdom and several other foreign countries. 
In June the Federal Trade Commission announced a settlement with Client Care/First Choice. In the meantime, the Florida Attorney General's Office brought a civil suit against Client Care/First Choice that effectively shut down their operation. 
The ongoing investigation has involved the St. Louis Field Office of the Chicago Division of the United States Postal Inspection, the U.S. Attorney General for the Southern district of Illinois, the Florida Attorney General's Office and the FTC.   
The Nov. 15 actions in criminal court are only the latest steps federal authorities have taken. In May the FTC, which works closely with state and federal prosecutors, announced a "coordinated effort, including complaints, settlements, indictments, and guilty pleas in a total of 16 civil cases against deceptive tech support operations.  
Since October 2016, the FTC has obtained several court orders shutting down and freezing the assets of numerous companies engaged in fraud. 
In May the FTC launched "Operation Tech Trap," which targets fraudulent online computer technical services. In June the FTC announced a settlement with a St. Louis-based company, Global Access Technical Support, LLC. When unwary users responded to the phone number in the warning that popped up on their screen, they were steered to telemarketers in India who falsely claimed to be affiliated with a major computer software company. 
"This brings to 29 the number of law enforcement actions brought by Operation Tech Trap partners in the last year to stop tech support scams," the FTC announced in May. Besides Illinois law enforcement, those partnering with the FTC include the Attorneys General of Alabama, Ohio Connecticut and Pennsylvania. 
Tom Pahl, Acting Director of the FTC's Bureau of Consumer Protection, said the settlements "underscore the FTC's commitment to protecting consumers from tech support scams." 
"When tech support scams pop up, the FTC will take action," he said. 
More information about the FTC's "Operation Tech Trap," can be obtained by logging on to: https://www.ftc.gov/news-events/press-releases/2017/05/ftc-federal-state-international-partnersannounce-major-crackdown. 
— Feds bust computer tech services scam ring in Southern Illinois —-