Illinois Bike Plan
April 30, 2014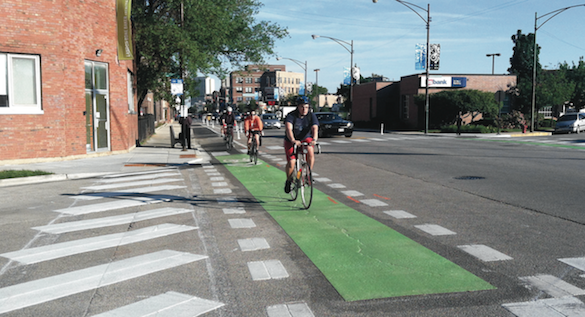 Photo Courtesy of Chicago Department of Transportation.
On April 16th, The Illinois Department of Transportation announced the Illinois Bike Transportation Plan, marking the first statewide bicycle plan in Illinois' history. 
The plan provides the Illinois Department of Transportation (IDOT) with policies and practices that will help implement a more sustainable and multi-modal transportation system across Illinois. 
With over 200 recommendations in the plan, it hopes to enhance IDOT's ability to provide both safe and cost effective accommodations for cyclists across Illinois. The recommendations address such topics as facility design and maintenance, network gaps, grant funding programs, safety education and enforcement, and internal governance and coordination. 
In addition, the plan has performance measures in place that will help in evaluating the progress of implementation of the plan.

"The Illinois Bike Transportation Plan is framed around five key principles: safety, connectivity, access, choice and collaboration," Ann Schneider, Illinois Department of Transportation Secretary, said. "These principles helped guide the development of the plan and will be instrumental to implementation. The plan will ensure that Illinois remains a model of excellence in sustainable transportation."
To develop the plan the Illinois Department of Transportation reached out to approximately 4,000 individuals, 60 local agencies, 50 non-profits, and 11 educational institution to provide input for the plan. 
During the planning stage, meetings were held in Peoria to hear the public's opinion on how to improve the future of bicycling in Illinois.
The five key principles mentioned by Schneider each have goals outlined in the plan. 
The goal of access is to make bicycling accessible to all Illinois residents regardless of their age, ability, background, and income. 
The goal of choice is to make bicycling a safe and viable transportation option in all areas of Illinois.
"Bike transportation is a choice, but it's a choice that we need to provide access to," Gabriel Sulkes, IDOT Office of Planning and Programming Policy Advisor, said "We need to provide infrastructure and networks that allow individuals throughout the state access to bike facilities, and we need those to be safely connected to a broader transportation system."
The goal of connectivity is to have bicycling seamlessly connect with other modes of transportation, such as trains and buses that will connect communities throughout Illinois.
The goal of safety is to make bicycling a safe and comfortable activity for everyone, and to minimize safety concerns for current and prospective bicyclists.
The issue of safety was one of the biggest concerns voiced by the public when coming up with the plan. Participants throughout Illinois public meetings took surveys that showed traffic safety was the top barrier to bicycling in Illinois. 
The goal of collaboration is to continue to strengthen IDOT's partnerships throughout the state, and build new ones that will help advance its' vision and goals for bicycling in the state.
In 2013 the League of American Bicyclists ranked Illinois as the ninth most bicycle friendly state in the nation, putting Illinois in the top ten for the first time. 
States are ranked based on grades in five categories, which include legislation and enforcement, policies and programs, infrastructure and funding, education and encouragement, and evaluation and planning. 
Illinois' lowest grades came in the categories of infrastructure and funding, and evaluation and planning. With Illinois' new plan in place, the state hopes to continue becoming a more bicycle friendly state. 
McLean County is already beginning to improve its' bike paths after receiving $420,000 worth of funding through Illinois Transportation Enhancement Program. The funding will go towards expanding the Route 66 Bikeway that was constructed in 2010 from Shirley to Bloomington. 
For more information on the new Illinois Bike Transportation Plan you can visit http://www.illinoisbikeplan.com/.