Illinois Communities Using 100% Renewable Electricity
March 19, 2014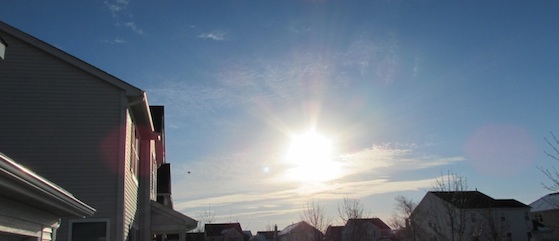 Photo by Ryan Martin.
According to a new report out ninety-one communities in Illinois have achieved 100 percent renewable electricity, making Illinois the leading state in renewable energy use. 
The report was released in collaboration with the Environmental Law and Policy Center, Sierra Club, World Wildlife Fund, LEAN Energy US, the Illinois Solar Energy Association, and George Washington University Solar Institute. Both McLean County and Peoria County are included in the list of 91 communities that have achieved 100 percent renewable electricity.
The spike in Illinois communities transitioning to renewable electricity is the result of a 2009 Illinois law that allows communities to buy their own electricity.  This form of aggregation allows residential and small business customers to buy electricity in bulk from smaller suppliers.
Now more than 600 Illinois communities have begun buying their own electricity, including the 91 who buy renewable energy directly or buy credits that help fund renewable energy development. 
"We are seeing the power of letting communities choose their electricity supply," Sarah Wochos, senior policy advocate at the Environmental Law & Policy Center, said. "Across Illinois, cities and towns are asking for clean, renewable energy, and we encourage them to use that power to bring new renewable energy projects to their communities."
The 91 communities that now use 100 percent renewable electricity represent more than 1.7 million individuals. As a result of the switch to renewable electricity, the reduction of greenhouse gasses is comparable to taking more than one million cars off the road, according to the report. 
Illinois is by far the leading state in the US with cities and towns using 100 percent renewable electricity. The state with the second most cities is Ohio, with only two. 
Normal is one of the leading Illinois cities in renewable electricity, after beginning aggregation about one and half years ago. The result has been cheaper electricity, while also helping the environment. 
"Normal is showing how communities can help move our country toward a more sustainable future from the local level," Sen. Dick Durbin said. "Along with other communities up and down Illinois, this city is cutting down both its utility bills and its environmental footprint by pursuing renewable electricity.  I hope other states take notice of the good work being done here in Normal and all across Illinois."
In addition to being a leading user of renewable electricity, Illinois is fifth in the United States in generation of electricity from wind power with more than seven million megawatt hours in 2012, according to the Energy Information Administration. 
A study done by the Center for Renewable Energy at Illinois State University showed that Illinois' 23 largest wind farms created around 19,047 full-time equivalent jobs while also supporting around 814 permanent jobs in rural Illinois.  
More information on the renewable electricity movement in Illinois is available through www.gocleangolocal.org.  
Through the website you can view the full "Leading from the Middle: How Illinois Communities Unleashed Renewable Energy" report, and also view a complete list of the 91 communities in Illinois that have achieved 100 percent renewable electricity.