Legislation to Ban Puppy Mill
May 14, 2014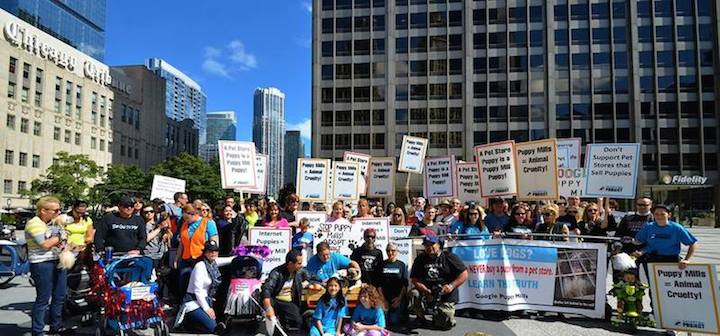 Photo Courtesy of The Puppy Mill Project
A new bill that would prohibit Illinois pet shops from selling dogs and cats acquired from commercial breeders, referred to as puppy mills, has recently garnered the support of Governor Pat Quinn.
"This proposal will help end inhumane puppy mills, protect pet owners and help shelter animals find loving homes." Governor Quinn said. "Cook County will soon offer this humane protection and together we can build on that momentum for families across Illinois."
The bill, which is sponsored by State Senator Dan Kotowski and State Representative Dan Burke, would require that pet shops only sell dogs and cats that have been acquired from an animal shelter or animal control facility. 
"Pets are a part of many families, and this legislation will help when choosing one of these new family members," Representative Burke said. "It will also reduce the number of shelter animals and bring more healthy pets into Illinois homes."
Commercial breeders often use large facilities that mass-produce animals in an unhealthy and inhumane environment. 
The bill is seeing widespread support from many areas including the support of the Humane Society of the United States.
"This legislation would help end the euthanasia of thousands of adoptable dogs and cats every year in the state, and will drive the market toward responsible breeders and adoptions of homeless animals from shelters and rescues instead of puppies produced in puppy mills," Kristen Strawbridge, Illinois State Director of the Humane Society of the United States said.
CISAR, Central Illinois Small Animal Rescue, a no kill shelter that has had over 10,500 animals adopted in its' 16 years has seen first hand the result of puppy mills.
Pat Burr, owner of CISAR, has seen multiple dogs brought to the shelter that had been used to bread puppies in commercial facilities.
"When we get them their condition is absolutely terrible," Burr said. "They usually don't even know how to walk on a leash, they just walk in circles because they've been in cages their whole lives." 
She explained the challenges of getting the dogs healthy enough to be adopted.
"Half of them have different diseases that you have to treat before we can adopt them out, we have to do a lot of work to make them healthy again," Burr said. 
Commercial breeders typically use dogs for about 5 to 6 years before they get rid of them. CISAR often tries to get the dogs before they are euthanized. 
"We try to grab them even though they're older, because we can try to find homes for them," Burr said. "If they could eliminate these puppy mills it would be such a blessing for these animals that have gone through so much pain."
Legislation to ban commercially bred dogs and cats has already passed in Chicago on March 5th. One of the organizations that had supported the legislation, and continues to support further legislation to ban puppy mills in Illinois is The Puppy Mill Project. 
Through peaceful protest, education, and community events, The Puppy Mill Project works to educate people on Puppy Mills and make a shift to more humane pet stores in Illinois. 
To learn more about The Puppy Mill project you can visit their website at http://www.thepuppymillproject.org.